Nearly 4 kilos of fentanyl and cocaine, 7 guns discovered in Farmington Hills raid
FARMINGTON HILLS, Mich. (FOX 2) - A Farmington Hills couple was arrested in February during a raid of their home where authorities said they discovered nearly 4 kilos of cocaine and fentanyl along with seven guns - three of which were stolen.
Michigan State Police put out some brief information about the bust on Monday, Feb. 13, stating that the County of Macomb Enforcement Team (COMET) searched a home that was part of a sophisticated drug trafficking organization with ties to Macomb County. MSP said that there were several search warrants served in Metro Detroit that week. This Monday, the criminal complaint about the search - including exact specifics - was unsealed.
According to the court paperwork, authorities searched a home on Cedarbrook in Farmington Hills, near 12 Mile and Haggerty Road, on Monday, Feb. 13.
During the search, they discovered two grams of crack cocaine, 3,269 grams of fentanyl, 666 grams of cocaine, 25 half doses of MDMA, paraphernalia including a drug press, and seven total guns, many of which were loaded.
The guns – two loaded Glocks, a loaded Five-seven, a loaded Smith and Wesson, a loaded 10 mm, and a loaded Zastava Yugoslavia assault rifle.
Authorities also found $190,000 in cash in a safe in the home.
The two people who lived at the home, Curtis Ellison and his girlfriend, Amber Wells, were both arrested. 
They're both charged with possession with intent to distribute.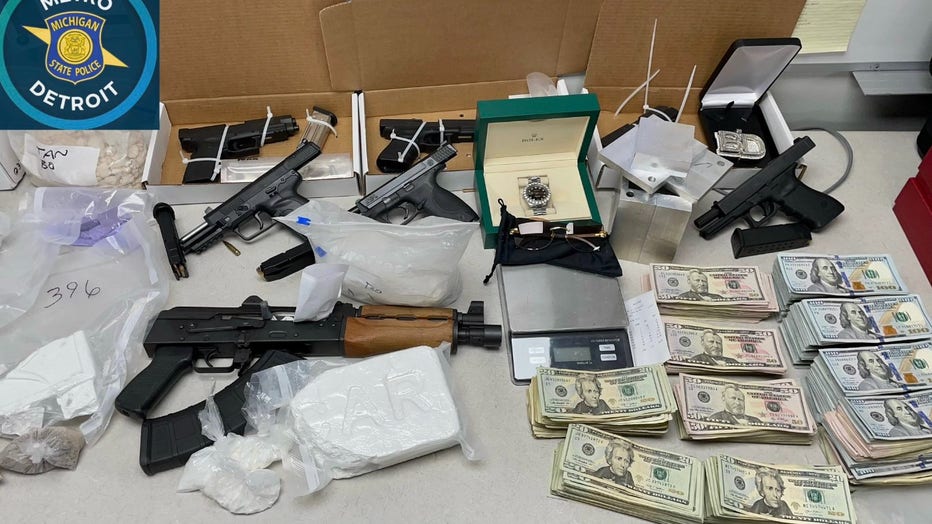 Photo: Michigan State Police