New Era Detroit's Hood 2 Hood event delivers resources to communities in need
FOX 2 (WJBK) - On Saturday, New Era Detroit will host its annual "Hood 2 Hood" event, where the group travels to several neighborhoods handing out resources for families in need, and toys to kids.
While it is a block party, there is a message of community empowerment behind it, this Saturday, April 29 for the ninth annual event.
Zeek Williams is the founder of New Era Detroit said the driving force behind Hood 2 Hood is community engagement.
"I always tell people the source in which we are able to really unite our community and our people is to reach out to the hoods and the ghettos of America," he said. "I'm really strict when I speak on communities. We've got to go to the source. We've got to go where a lot of people are scared to go. Where people can't relate and build in these places.
"So for us, this is our ninth year doing this. We've been to over 100 communities just in the city of Detroit alone. (We've) serviced over a 100 communities so this is just about engaging with the communites, listening to the communities and figuring out ways to go about figuring out issues going on in our community together as a unit."
FOX 2's Brandon Hudson:  "I think given the violence that we have seen recently, building these relationships or re-building these relationships, are vital. What is the message that you want to send to people to say, 'We're out here. We're trying to build solutions to make it safer for you and your kids to be outside?"
"See, the thing about life is we can talk until our lips fall off, but it's about what we do. It's not just what we do but how we do it and the consistent manner in how we do it," Wilillams said. "Being consistent is very important for us and being intentional is very important for us. Us being able to move throughout the community consistently with our hands in, not coming with our hands out. We always have something for the people and showing people this is how we need to move, in order to level stuff up.
"We can sit in meetings. We can have conferences. We can do this and that, but really we have to put ourselves in a position of action."
New Era Detroit's Hood 2 Hood event will be kicking off at 11 a.m. Saturday, at John R. King elementary-middle school 15850 Strathmoor St, Detroit, 48227.
"We'll be starting there, just come out," Williams said. "The weather is going to be good. There is going to be a lot of good energy. A lot of good people. Build with the people in your community and the organization. So come out and get involved and make sure you are part of the solution -  because if you're not a part of the solution, you're a part of the problem."
To learn more about New Era Detroit, check out the Instagram page HERE.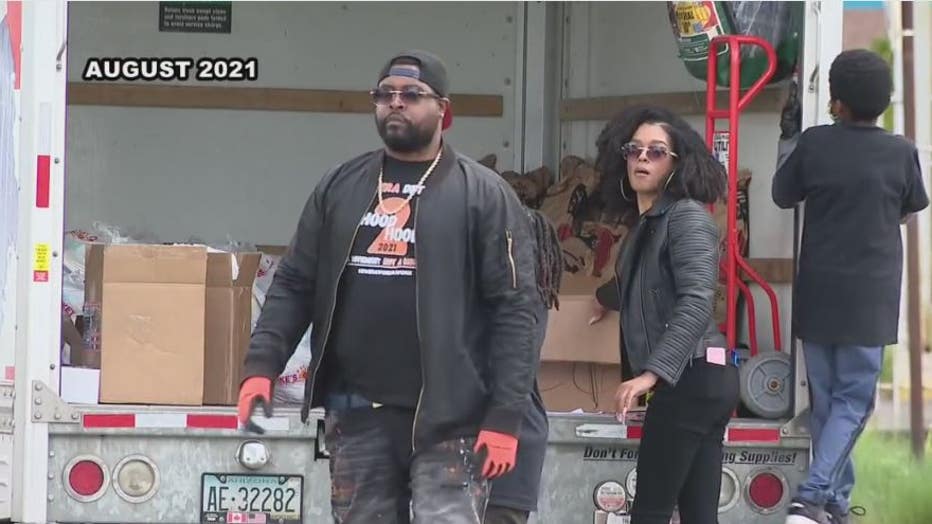 Zeek Williams and New Era Detroit at the 2021 Hood 2 Hood event.