New Holland Brewing announces 2 new Dragon's Milk beers, annual return of Triple Mash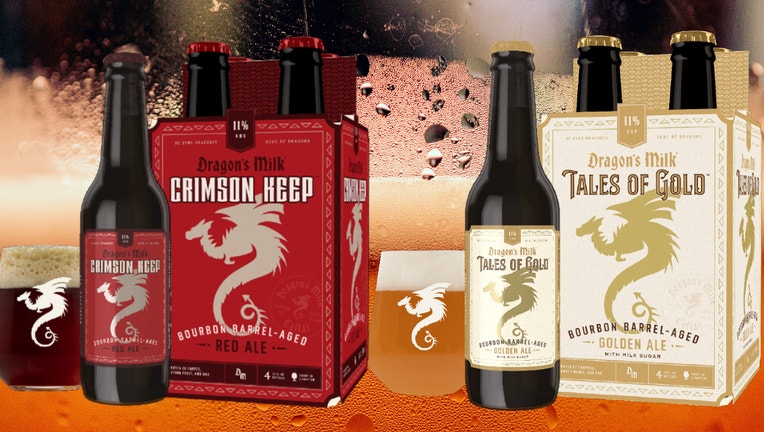 article
HOLLAND, Mich. (FOX 2) - New Holland Brewing Co. is expanding its Dragon's Milk offerings.
The west Michigan brewery announced Crimson Keep, a bourbon barrel-aged red ale, and Tales of Gold, a bourbon barrel-aged golden ale with milk sugar. Both beers are 11% ABV. These beers are headed to stores this month.
In addition to new beers, Dragon's Milk Triple Mash returns soon. The heavy-hitting brew with a 17% ABV and spent a year in bourbon barrels. It will release in New Holland Brewing's Holland and Grand Rapids brewpubs on March 18 and will receive a limited distribution in Illinois, Indiana, Kentucky, Michigan, Ohio, Pennsylvania, and Wisconsin shortly after.
The brewery is also releasing Dragon's Milk Ready-to-Serve Old Fashioned cocktail in a 375ml bottle.  The Old Fashioned is made with Beer Barrel Bourbon, house-made bitters, orange peel oil, and their signature Simple Syrup which is crafted by reducing down the flagship Bourbon Barrel-Aged Stout into a syrup and adding sugar, New Holland said. The Old Fashioned will be available in late April and will be sold throughout Michigan, Illinois, Indiana, Wisconsin, and Kentucky in Meijer stores and local retailers.
As New Holland releases new beverages, it is also updating its Dragon's Milk packaging.
"We're committed to providing a premium beer experience to our fans, and our new packaging more accurately reflects that goal. The new 4-pack carriers maximize visibility and readability on shelf, and create a beautiful billboard of brands when placed side-by-side. Increasing the height of the carriers is also better for the beer, protecting it from harmful light exposure. The dragon has never looked better and is truly ready to fly," said Dominic Bergquist, brand manager for the Dragon's Milk portfolio.