'No effect': Justice Department program says Detroit's Project Greenlight and Ceasefire don't do enough
DETROIT (FOX 2) - For the past decade, Detroit's police chiefs have lauded Project Greenlight and Ceasefire as programs that deter crime. But this week, the U.S. Department of Justice's research arm says they don't do enough.
The DOJ's research arm, National Institute of Justice (NIJ), dives deep into studies to come up with ratings of effective or no effect - the latter of which means the program doesn't work. Those are the ratings the NIJ gave to both Greenlight and Ceasefire.
Ceasefire was first launched by Detroit Police in 2013 to reduce young gun violence and activity.
In a statement, Detroit Police Chief James White says the findings make sense. Here's the full statement:
"Ceasefire Enforcement utilizes a targeted law enforcement response to promote part one of the Ceasefire message: violence is unacceptable and any future violence will result in targeted enforcement.
Additionally, in response to the National Institute of Justice's evaluation: The results of this review are in line with what we expected. Ceasefire call-ins are effective with the individuals who attended, with reductions in arrests and violent arrests of those individuals, but not effective with the broader community that was not involved in Ceasefire. This gives us clear direction on how Ceasefire can be more impactful as we work to reduce violence and increase the quality of life for Detroiters."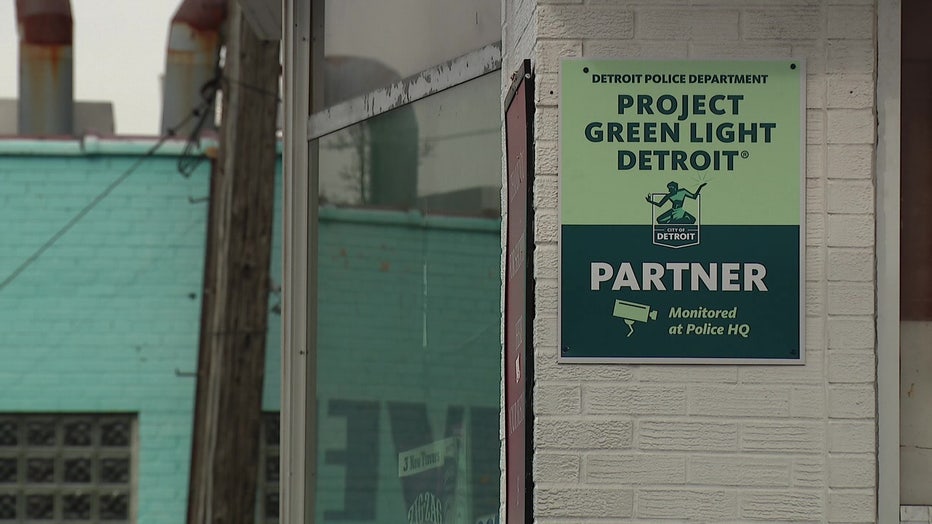 Project Greenlight at a Detroit business.
Businesses we talked to said Project Greenlight sends a clear statement. Companies buy into the program and the department installs surveillance cameras which are monitored in real-time by Detroit Police.
Moussa Bazzi owns a gas station and was one of the first to get them installed in 2016.
"The flashing green light shows that we are monitored," he said. "Automatically it cut all the problems out. The smash and grabs stopped."
The NIJ said it doesn't have a broader impact at preventing crime but did say that it found a 27% reduction in property crime after the first year it started.
Moussa doesn't agree, saying studies don't factor in the human side of things.
"I know studies up and down but talk to the real people the people that are here after 5 or 6 in the evening," he said.
Detroit Police also issued a statement about Greenlight, saying the program is effective.
"Project Green Light Detroit is intended to prevent, detect, and solve crime. The evaluations only looked at the program as a deterrent and was unable to separate changes in crime at PGLD locations from prevailing crime trends.
While deterrence is difficult to analyze, some measures of solvability are easier to observe. Previous department analysis has found that PGLD cases with video evidence had a higher closure rate than non-PGLD cases with or without video evidence. Additionally, PGLD cases were solved more quickly than other types of cases, and that cases with video evidence that were not solved were active longer, indicating that investigators spent more time and had more leads to investigate than cases without video evidence."