Northville man's northern lights photo a submitted finalist for National Geographic contest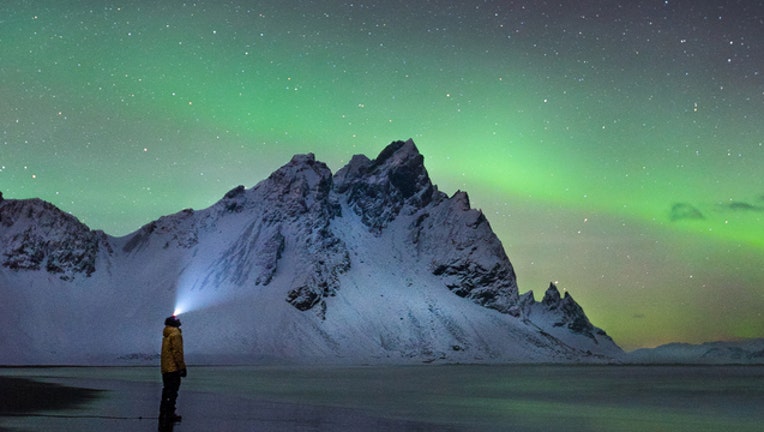 article
(FOX 2) - With his neck craned toward the starry sky, Troy Cini's friend stood still for 15 seconds.
He had to. That's how long the camera's shutter was open due to the scene's darkness. And the scene is something to behold.
The backdrop captures Vestrahorn Mountain in Iceland caught between a crowded night sky illuminated by the iconic greens of the aurora borealis, and the stillness of a shallow Atlantic Ocean tide reflecting the mountain. What might appear as a painting hung in a northern Michigan cabin is actually the product of a hobbyist bent on capturing the image that best showcases his experience.
Titled "Illuminate," it was taken on Jan. 25, 2019 and was submitted to the 2019 National Geographic Travel Photo Contest on April 25, where it is now listed as a finalist for the Nature category.
"I used a wide angle lens, the reason being so I wanted to capture the ocean, sky and the mountain," Cini said. "To be able to get all three of those was a big challenge."
Audiences wouldn't know it, but the wind was brutal that evening. It was also taken after three nights of bearing the frigid January winters that batter the northern island nation each year. Storm clouds obscured his initial attempt to take the perfect photo. But Cini had envisioned taking this photo when his vacation began.
He wasn't going to be denied.
"My friend and I drove around for over a week, sleeping out of a car," he said. "I went into it knowing I wanted this particular location, wanted this mountain range. To get the northern lights, that would be more than I could ask for."
Cini doesn't get paid to take pictures - well, not these kinds of photos. He's part of the in-house marketing team with the University of Michigan, where he photographs sports, speeches and events that probably don't include the northern lights.
Before that, he graduated from Northwood University with an International Business degree - despite "not wanting to do that." If he couldn't take photos for a living, he at least had a backup plan.
But now, the 22-year-old finds himself submitting images along some of the best amateur photographers in the world. Scroll through the submissions, and one will be treated to an amalgamation of near-ethereal scenes depicting animals immersed in their native ecology, and landscapes just begging for someone who knows what an ISO is to click 'capture.'
"The public can vote. That's really why I started pushing it; to share with as many as possible," Cini said. "[The Industry] is so saturated with Instagram and social media it can be hard."
While there are cash prizes worth $2,500 for winners of the nature, cities and people categories, as well as a grand prize worth $7,500, the Northville native is gunning for the People's Choice award.
Even so, his ulterior motive behind his submission has less to do with the material votes his photo will amass.
"It's cool to see people interact with it. That's been the coolest part of the process so far," he said. "Not trying to win, or the prize, just sharing work with as many people is something a lot of photographers strive for because it's so hard to do."
That live-in-the-moment mantra that Cini preaches stretches beyond his hopes for photography. It's also evident in his advice for any amateur photographers considering a trip to Norway, or anywhere else scenic for that matter.
"Take as many photos as possible. Having that experience is really what the photo is there for. When you are taking photos, get a different perspective. If there is a popular photo location, go 200 yards to the left or right or down the water fall and get a different perspective."
Submissions for the contest end May 3. The winners will be selected June 12.