Officials warn against planting unsolicited seeds from China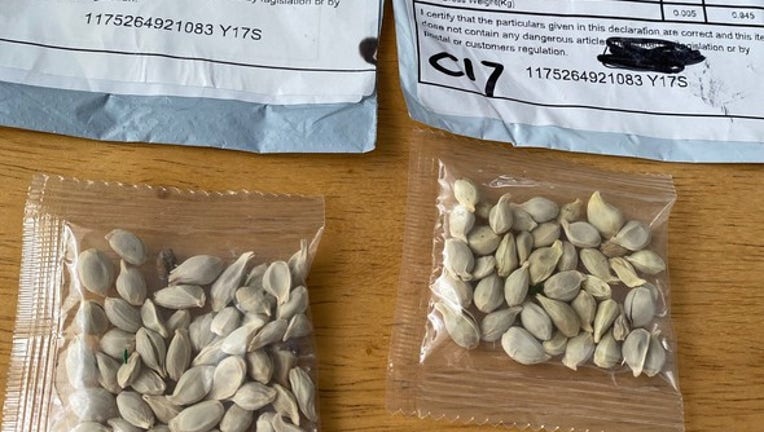 article
DETROIT (FOX 2) - If you receive a package of seeds that you didn't order from another country in the mail, do not plant them.
That's the warning from the Michigan Department of Agriculture and Rural Development (MDARD) after people have reported receiving unsolicited seed packets from China. Similar cases were reported in 2020.
"If you receive unsolicited seeds from another country, do not open the packaging or plant the seeds," said Mike Philip, director of MDARD's Pesticide and Plant Pest Management Division. "USDA testing of these packages has identified hundreds of varieties of seeds, ranging from noxious weeds, to cannabis, to a wide array of vegetable and flower seeds."
Most people who have gotten these seeds say they did not order anything, and that the packaging was labeled as jewelry. Others have reported ordering seeds on Amazon and receiving these seeds.
According to MDARD seeds are sent in a diverse array of packaging, including letters to parcels in a variety of colors. 
While this remains under investigation, the state said this could be part of a "brushing" scam where a vendor ships an inexpensive product to a random person and then submits positive reviews on behalf of the person, who has no idea.
The state is also investigating whether these seeds are dangerous.
"These unknown seeds could be invasive, introduce disease to local plants, or be harmful to livestock. If planted, these unknown and potentially invasive species could have a very negative impact on the environment. Additionally, we're asking people not to throw the seeds or packages away or dispose of them," Philip said. "MDARD appreciates the cooperation of Michiganders who receive these packages as we work together to protect Michigan agriculture."
If you receive these seeds, report them to MDARD's Customer Service Center, which is open Monday-Friday from 8 a.m. to 5 p.m., at 800-292-3939 or via MDA-Info@michigan.gov.
Watch FOX 2 News Live