Ohio police announce $50K reward for arrest of Facebook murder suspect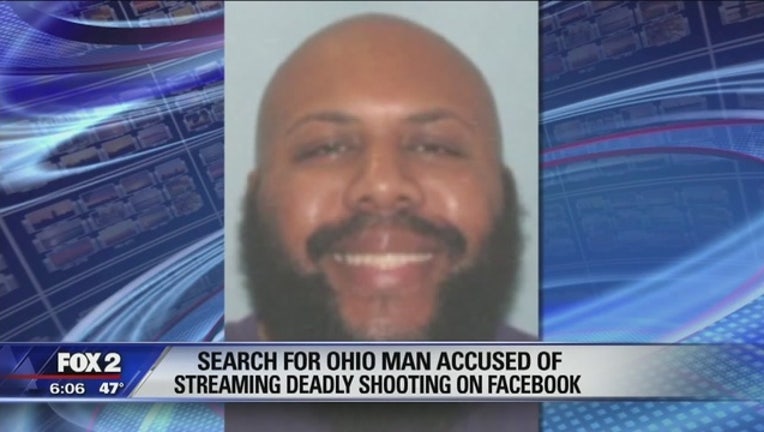 article
Police in Philadelphia are investigating a possible sighting of a suspect wanted for murdering a man on Facebook Live in Cleveland on Sunday, something the chief of police in Cleveland says is not true.
Steve Stephens was reported to have been spotted in the Philadelphia area Monday afternoon. A manhunt is underway in several states, including Michigan, to find the man wanted for murdering Robert Godwin Sr. in Cleveland.
Police in Cleveland held a press conference around 3:15 Monday afternoon with new information. CLICK HERE to watch it live
Authorities in several states were on the lookout for Stephens Monday, after police say he shot Godwin Sr., a retiree collecting aluminum cans, and then posted video of the apparently random killing on Facebook.
During Monday's press conference, officials announced a reward leading to his arrest is $50,000, made possible by the FBI, ATF, and U.S. Marshall's Service.
Police Chief Calvin Williams said that the search is now a nationwide search and they are imploring Stephens to turn himself in by calling a friend or family member. Williams said they will follow up on every tip and encourage people to call 1-800-CALL-FBI.
Search for Ohio Facebook murder suspect widened to Michigan
Williams said that Stephens is believed to still be armed and also said there is no truth to the rumor that the suspect is in Philadelphia. He would not elaborate on what would lead to the reports that he was in that city.
"He could be nearby. He could be far away or anywhere in between," FBI agent Stephen Anthony said on Day 2 of the manhunt for Steve Stephens, a 37-year-old job counselor for teens and young adults.
Police said Stephens killed Robert Godwin Sr., a 74-year-old former foundry worker, on Sunday.
Chief Williams said there was "no rhyme or reason" that led to the murder. 
Investigators said that Godwin was the only victim so far linked to Stephens, despite the suspect's claim in a separate video on Facebook that he killed over a dozen people.
Officers searched dozens of places around the city and spoke with the suspect by cellphone, police said.
Chief Williams warned residents to be careful as the go about their day.
Authorities also warned people in Pennsylvania, New York, Indiana and Michigan to be alert for Stephens, who was wanted on a charge of aggravated murder.
"We're going to make this individual's world very, very small," said U.S. Marshal Pete Elliott.
Godwin apparently was shot while out picking up cans in a plastic shopping bag, his daughter said.
"Not because he needed the money, it was just something he did," said 52-year-old Debbie Godwin. "That's all he was doing. He wasn't harming anyone."
She said her father, who had 10 children, was a gentle man with nothing mean about him. "We called him the junk man," she said. "He'd pick up things off the street and fix them. He picked up bikes and he fixed them."
The motive for the shooting wasn't entirely clear from the shaky video, in which Stephens told Godwin a woman's name and said, "She's the reason that this is about to happen to you." Godwin did not seem to recognize the woman's name.
The suspect then pointed a gun at Godwin, who shielded his face with the plastic bag.
The woman Stephens mentioned, Joy Lane, said in a text to CBS that "we had been in a relationship for several years. I am sorry that all of this has happened."
She also said Stephens was "a nice guy" who was generous to everyone and was "kind and loving" to her and her children.
Facebook said the video was posted after the killing but wasn't broadcast on Facebook Live as police initially indicated. The suspect did go live on the social media site at another point Sunday.
The video of the killing was on Facebook for about three hours before it was taken down. Stephens' Facebook page also was eventually removed.
"This is a horrific crime and we do not allow this kind of content on Facebook," the company said. "We work hard to keep a safe environment on Facebook, and are in touch with law enforcement in emergencies when there are direct threats to physical safety."
In the separate video, Stephens said: "I killed 13, so I'm working on 14 as we speak."
Police said they have not verified any other shootings or deaths.
Stephens worked at Beech Brook, a behavioral health agency headquartered in Pepper Pike, near Cleveland. He helped young people develop job skills and find employment, said Beech Brook spokeswoman Nancy Kortemeyer.
An extensive background check before he was hired turned up nothing worrisome, she said.
"We just hope Mr. Stephens is apprehended as quickly as possible so that no one else is injured," she said.
In one of the videos, Stephens could be seen holding up his employee identification and said: "I'm killing with my Beech Brook badge on, too."