Oxford High School grads not allowed to wear orange cords honoring shooting victims, district says
OXFORD, Mich. (FOX 2) - As Oxford High School seniors prepare to walk across the stage and graduate this week, they want to wear cords honoring the victims of the 2021 school shooting, but the district won't approve it.
The students decided to wear orange cords. The color is a nod to the national Wear Orange campaign supported by Everytown For Gun Safety and Moms Demand Action as a way of honoring survivors of gun violence while pushing for gun reform. 
Sources said some viewed the cords as being too political. 
"From my understanding, 175 seniors ordered the cords on their own online to be delivered to their homes, and then when they asked towards the end of the year they were told by administration that they wouldn't be permitted," parent Marisa Prince said.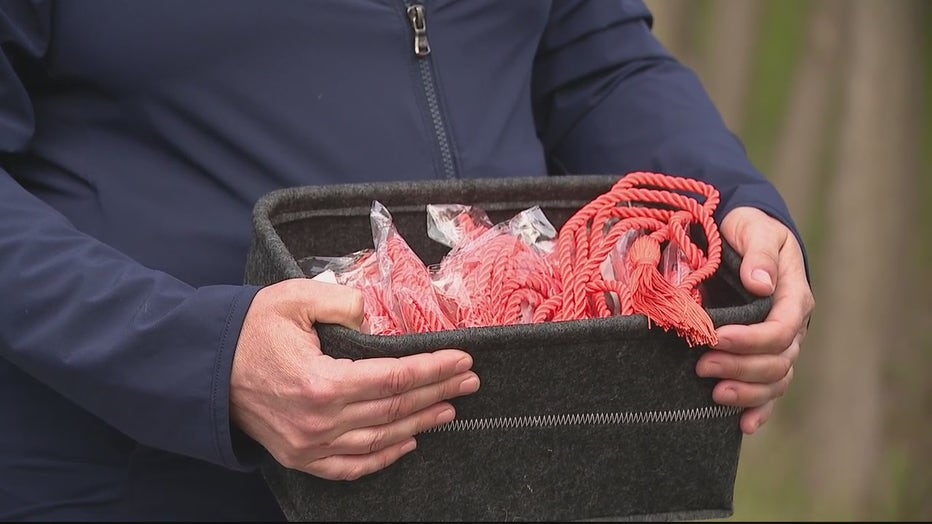 Related: Oxford shooting families get key win in lawsuit against district
When she heard this wasn't allowed, she ordered her own boxes of orange cords for seniors to wear with their caps and gowns. 
"I think the orange cord is a subtle way for students to show what they've been through on their graduation day in front of their loved ones," Prince said. "The student that was killed from this graduating class just touched a lot of lives and so had friends all over his grade, and I think a lot of people are just even treating the cord as a way to remember him."
Tate Myre, one of the four students killed in the Nov. 30, 2021, shooting would have graduated this year.
The superintendent sent a letter out to parents saying in part: 
"The reason I am not approving or endorsing the orange cord that is being distributed by an outside organization is because the tradition of Oxford High School's graduation has been to keep the focus solely on students and their accomplishments. My endorsement of other symbolic graduation wear would set a precedent that could erode that tradition and more importantly the focus on students and their accomplishments. I personally endorse many worthwhile public and charitable agendas, but I do not do that within the scope of my duties as Oxford Community Schools superintendent."
The district came up with an alternative way of showing support. It approved a navy and gold Wildcat honor cord as part of the graduation wear, a tribute to the "resilience and strength these students have had to find within themselves" according to another statement sent out to the community.
"I was surprised that the district took such a hard line on this," Prince said.
She said she is expecting even more students to go their own way on this one.
"I was just shocked that we can't show some compassion and show some understanding and try to listen to the students. Try to allow them to express what they need and try to come together with some compromise," she said.