Passenger in I-94 crash that killed tow truck driver dies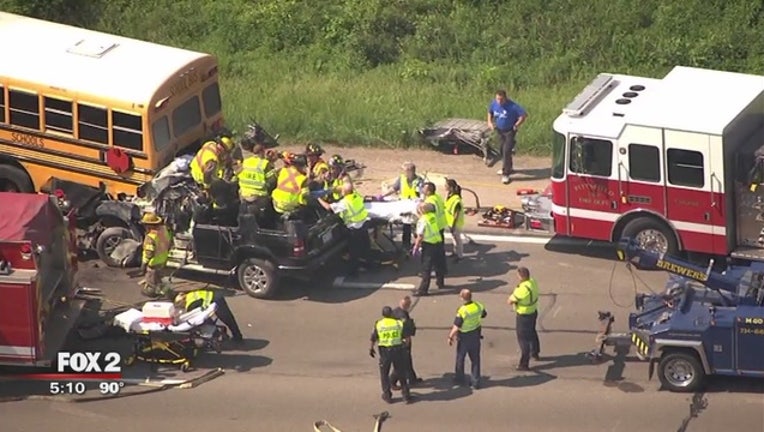 article
YPSILANTI, Mich. (WJBK) - A woman in the passenger seat of a vehicle involved in a devastating I-94 crash on May 29 has died, according to police. 
Michigan State Police say 28-year-old Antoinette Butler of Ypsilanti died on Friday from her injuries in a crash on eastbound I-94, west of US-23, near State Street that killed another man.
Family of tow truck driver killed on I-94 calls responsible driver 'selfish'
Police say a tow truck driver was working on a disabled bus on the side of the road that had a flat tire when an SUV crashed into the back of the school bus. The impact killed 42-year-old tow truck driver Nader Chehadi of Ypsilanti.
2-year-old in crash that killed tow truck driver released from hospital
Witnesses told police they saw the driver of the SUV make an abrupt lane change to the right, crossing all lanes of traffic, before driving onto the shoulder. The driver then tried to get back on the freeway, but hit the back of the school bus. 
MSP says SUV driver 25-year-old Andre Edwards of Ann Arbor is in serious/stable condition, passenger 5-year-old Deprince Moore is in critical/stable condition, 4-year-old Desmond Moore is in stable condition, and 2-year-old Darrel Moore has been discharged from the hospital.
Docs: woman accused of killing tow truck driver had license revoked twice, history of DUIs
According to state records, driver Andre Edwards, the mother of the three children, had her license revoked twice since 2009. The most recent time was for having three or more alcohol-related convictions in 10 years.
Police also say the three children in the backseat were not wearing seatbelts or child restraints at the time of the crash. It is not known whether the driver and front passenger, who has died, were wearing seatbelts.
Kids, 2-5 years old, weren't buckled in SUV at time of I-94 crash with bus: police
Chehadi was the daytime supervisor over drivers at the towing company, a husband and a father of two children under the age of 5.