Rising floodwaters sweep house away in Kentucky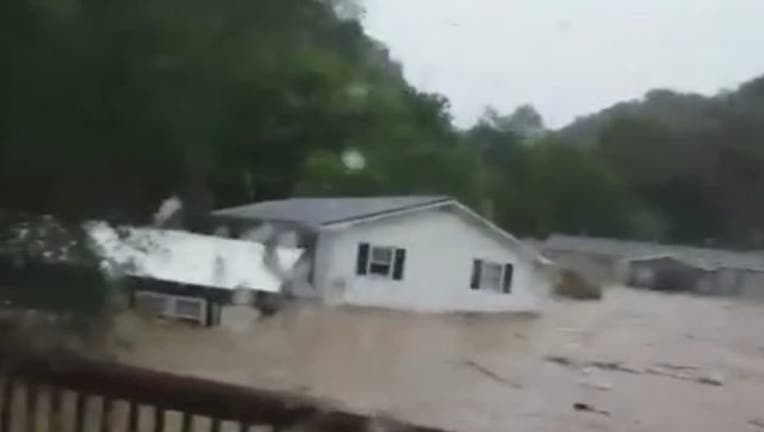 article
PAINTSVILLE, Ky. (AP) - Floodwaters that rushed through eastern Kentucky left one dead and seven unaccounted for as search teams combed the hilly Appalachian terrain Tuesday, with the threat of more floods bearing down on rescue efforts.
Emergency personnel in the hardest-hit neighborhoods in Johnson County are struggling with debris, downed power lines and difficult communication as they go door-to-door, searching for those who might be trapped in their homes, Kentucky State Police Trooper Stephen Mounts said. Some people were rescued from trees they climbed to escape the floodwaters, according to county Sheriff Dwayne Price.
The missing range in age from 22 to 74.
Kentucky Gov. Steve Beshear declared a state of emergency to give local officials immediate access to state resources to assist in recovery efforts.
Water still covered places along a highway leading to the worst-hit area in Johnson County Tuesday afternoon. Several damaged or destroyed mobile homes were visible, including some that were swept off their foundations. Other homes had front yards that were caked in mud. Several trees were down and piles of debris littered low-lying places along the creek bed.
Buddy Rogers, spokesman for Kentucky Emergency Management, said the ground is thoroughly saturated from the overnight rains and heavy storms from the last several weeks. More rain is expected this afternoon, and the water will have nowhere to go but into roads, yards and homes, he suspects. Many of the same areas are likely to be underwater again. The water-logged ground also threatens to topple more power lines, trees and utility poles in high winds.
"Any more rain at all is going to be detrimental, it will hurt us," said Bobby Moore, a Johnson County 911 dispatcher. Moore said the flood washed away a number of rural roads and left others clogged with fallen trees and debris, forcing rescuers to turn to all-terrain vehicles to reach homes and search for residents.
Mounts says the number unaccounted for in Johnson County is fluid and likely to change quickly, as those believed lost are discovered to have evacuated before the storm and others previously unknown are reported missing. Emergency personnel asked those who have loved ones missing to contact law enforcement.
The search area stretches more than eight miles, from the town of Flat Gap south to Staffordsville - an area with some 500 homes and 1,200 residents, police said at a Tuesday morning news conference. Authorities estimate more than 150 homes were damaged or destroyed.
Authorities are trying to keep as many people off the roads and out of the area as possible. Rogers recommended that people who live in flood-prone areas find an alternative place to stay until the storms pass. Homes there have no power or phone service, and many have been severely damaged by floodwaters. A shelter was opened at the Paintsville recreation center, though only a handful of people were there Tuesday afternoon. Most displaced residents are staying at hotels or with family, Moore said.
Kentucky Power reported 19,000 people still without power in eastern Kentucky.
Johnson and Rowan counties saw the worst of the flooding Monday, Rogers said, though authorities reported water rescues throughout Kentucky. The Courier-Journal in Louisville reported five water rescues in Jefferson County and a number of roads were closed due to flooding.
The man who died was caught in floodwaters that stalled his vehicle, Price said. The victim stepped out of the vehicle and was pulled in by the rising water, he said.