Sean English, metro Detroit teen who lost leg in crash, gets Tyler Trent scholarship at Purdue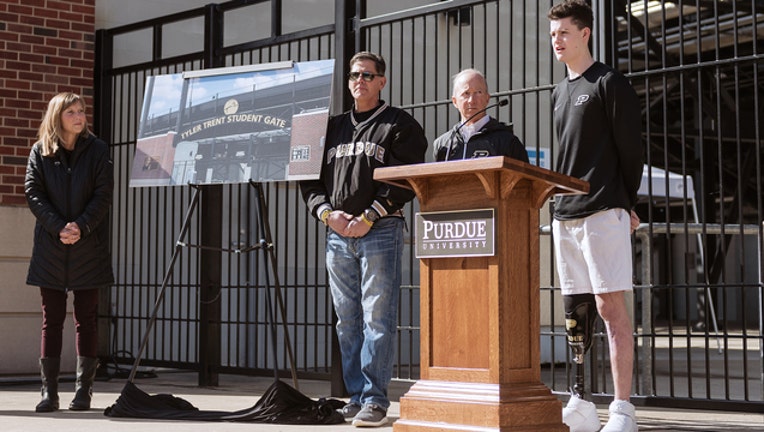 article
(FOX 2) - The metro Detroit high school student who lost his leg helping victims of a car accident has been awarded a memorial scholarship at Purdue University.
Sean English of Northville has been awarded the Tyler Trent Courage and Resilience Award. The scholarship is part of a special memorial honoring Tyler Trent, who was a superfan of Purdue and a cancer activist who died in January with bone cancer. He was 20 years old.
A memorial gate leading to the student section entrance of Purdue University's football stadium will also be built to honor Trent. The Tyler Trent Memorial Gate will be erected before the start of the fall football season.
Trent became a social media star with his positive attitude and determination to live every day to the fullest.
English is wrapping up his freshman year at Purdue. In 2017, he was a Junior at University of Detroit Jesuit when he stopped to help someone in a crash while on his way to Sunday Mass.
"I'm stunned and honored to receive an award that bears Tyler's name," English said in a press release. "Without this support and that of Purdue University over the past year, I would never have been able to achieve my dream of attending college, let alone an institution such as Purdue."
The entire English family got out to help the accident victims - when they were hit by another vehicle. Another Good Samaritan who stopped, a doctor at Henry Ford Hospital, was killed. English later lost his leg as a result of the crash.
English, a track star at UofD, was eventually fitted for a prosthetic and returned to run one race at the school last April. 
"I'm just grateful that I have the opportunity to run in this race and to do what I've always wanted to do," he said in April 2018. "Which is end my high school career on this track at U of D."
The Associated Press contributed to this report.