Semi-truck collides into Detroit apartment, DTE employee dies after electrocution, gifted car stolen
MONDAY NEWS HIT - The driver of a semi-truck is missing after he lost control of his vehicle, struck multiple parked cars, and collided with an apartment building wall. 
No one was seriously injured in the crash, but the structure near Greenfield and Grove in west Detroit sustained heavy damage.
A tenant in the apartment complex was taken to a hospital as a precaution, however.
The crash happened around 2:30 a.m. Monday. Multiple police and fire units were on the scene by the time the crash was reported.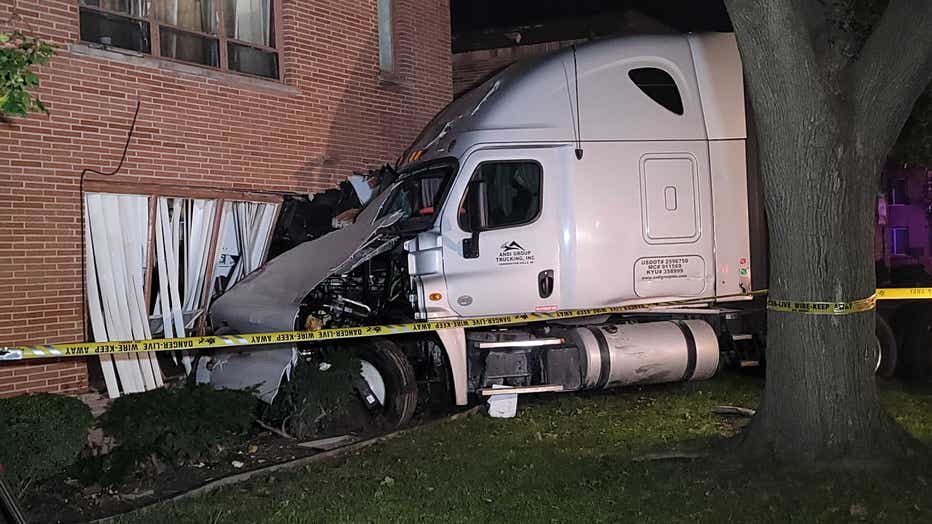 It's unclear what caused the semi-truck to lose control. It struck five parked vehicles before colliding with the corner of the apartment building. 
One resident who spoke with FOX 2 said that had the parked vehicles not slowed the truck's speed, the impact could have been a lot worse.
Witnesses at the incident didn't get a good look at the driver before he fled, only describing him as wearing a white jumpsuit. 
No other information was given.
Michigan proposes quarantining some firewood
In an effort to prevent unwanted diseases and pests from coming into Michigan, the state's agricultural department is proposing a quarantine protocol on external firewood before it enters the state.
Insects like the Asian long-horned beetle, the mountain pine beetle, and the spotted lanternfly, which are not native to the state but are capable of damaging crops, trees, and vegetation, are known to be introduced to Michigan through firewood coming from out of state. "These infestations can be devastating and pose a serious threat to Michigan's agriculture, natural resources and the environment," said Mike Philip, MDARD's pest management division director.
Under new proposed guidelines, the Michigan Department of Agriculture and Rural Development by heat-treating wood to a temperature of 140 degrees Fahrenheit for at least an hour. Kiln-dried lumber and wood chips smaller than an inch would be exempt. As would logs or wood shipped from out-of-state sources that directly go to mills.
A public comment period on the policy is now open until Nov. 19, 2021. Members of the public interested in providing feedback on this proposed quarantine can submit their comments to Mike Bryan, MDARD Export and Compliance Specialist by emailing BryanM@Michigan.gov
DTE employee dies after being electrocuted
A utility worker in Brighton Township was fatally electrocuted Sunday morning when he came into contact with an energized cable and sustained injuries. 
Michigan State Police that responded to the incident were at the scene in Livingston County around 10:30 a.m. The DTE worker, a 41-year-old man from South Lyon, was in the field at the time of the death. 
"He, along with thousands of DTE employees, held a commitment to caring for our customers and communities, and we view him as a hero. We are reaching out to his family, and we ask for consideration and privacy at this time of profound sadness and grieving. We are sending our full love and support to his loved ones, and all those whose lives he touched," read a statement from DTE.
Troopers were assisted on scene by Livingston County EMS, Brighton Fire Department, Howell Fire Department, and Livingston County Sheriff Department.
Gifted car from Detroit R&B singer stolen
A car gifted from Hollis Jordan, a Detroit R&B singer, to his mother, was stolen from outside of her apartment on Oct. 16.
Jordan bought the car for his mother, Peggy, back in June 2020. She said he had bought it for her so she could get to her doctor's appointments.
Just two weeks prior to the car theft, Peggy had a camera installed in the vehicle after she'd had some items stolen. This time, the thief's whole face was caught on video. Anyone who recognizes the man in the video is asked to call Southfield Police.
A GoFundMe was started to help raise money to buy Peggy a new car.
Rochester Hills man arrested after vandalizing mosque
Ryan Lee Ahern, a 33-year-old from Rochester Hills, was arrested on Oct. 15 for smashing a window at the Ahmadiyya Muslim Community Center.
Oakland County Sheriff's Detectives identified him from the community center's surveillance video.
A hammer was believed to be used in the crime committed just a week ago. Ahern is also a person of interest in other acts of vandalism, those at non-religious locations. Detectives said that they believe the vandalism was a random act and not a hate crime.
Ahern was arraigned on Oct 16. on a $10,000 cash surety or 10% bond. Currently, he is free after posting $1,000. No new court date has been set.
What else we're watching
Dr. Jill Biden is planning to visit Detroit for the annual Yeshiva Beth Yehudah dinner next Sunday. She will be the guest speaker at the event, which is scheduled at 4:30 p.m.
Lawrence Tech University has added a new Master's degree program that focuses on cardiovascular perfusion, which is the practice of operating heart-lung machines during open-heart surgeries. The program is a partnership with a Plymouth company. 
Henry Ford Health Systems are warning people about a new phone scam that's affecting its Macomb hospital location. Operators have fielded as much as 200 calls a day saying they received "spoof" calls from the hospital about money owed. 
The Michigan Independent Citizens Redistricting Commission has finalized its draft for the state's new house and senate districts in both the state and congressional arena. The commission is now holding public hearings for feedback on the newly drawn boundaries. 
The owner of four pet caracals who escaped their enclosure for the third time was given until Monday to relocate them, Royal Oak police said. The incident sparked questions about the legality of wild African cats. 
Live on FOX 2
Daily Forecast
Fall has finally arrived for Metro Detroit as temperatures were in the low 40s to kick off the week. Conditions will warm up by Wednesday before plummetting back down later in the week. A chance of rain is possible by Wednesday and Thursday.
Haiti kidnapping: US seeks release of 17 missionaries abducted by gang
U.S. officials are working with Haitian authorities to try to secure the release of 12 adults and five children with a U.S.-based missionary group who were abducted over the weekend by a gang notorious for killings, kidnappings and extortion.
The group was snatched by the 400 Mawozo gang, which controls the Croix-des-Bouquets area east of the capital of Port-au-Prince, police inspector Frantz Champagne told The Associated Press on Sunday. The abduction happened Saturday in the community of Ganthier, which lies in the gang's area. It was blamed for the kidnapping of five priests and two nuns earlier this year.
As authorities sought the release of the 16 Americans and one Canadian with the Ohio-based Christian Aid Ministries, local unions and other organizations expected to launch a strike Monday to protest Haiti's worsening lack of security.