Semi-truck driver flees crash after striking five parked cars, running into Detroit apartment
DETROIT - The driver of a semi-truck is missing after he lost control of his vehicle, struck multiple parked cars, and collided with an apartment building wall. 
No one was seriously injured in the crash, but the structure near Greenfield and Grove in west Detroit sustained heavy damage.
A tenant in the apartment complex was taken to a hospital as a precaution, however.
The crash happened around 2:30 a.m. Monday. Multiple police and fire units were on the scene by the time the crash was reported.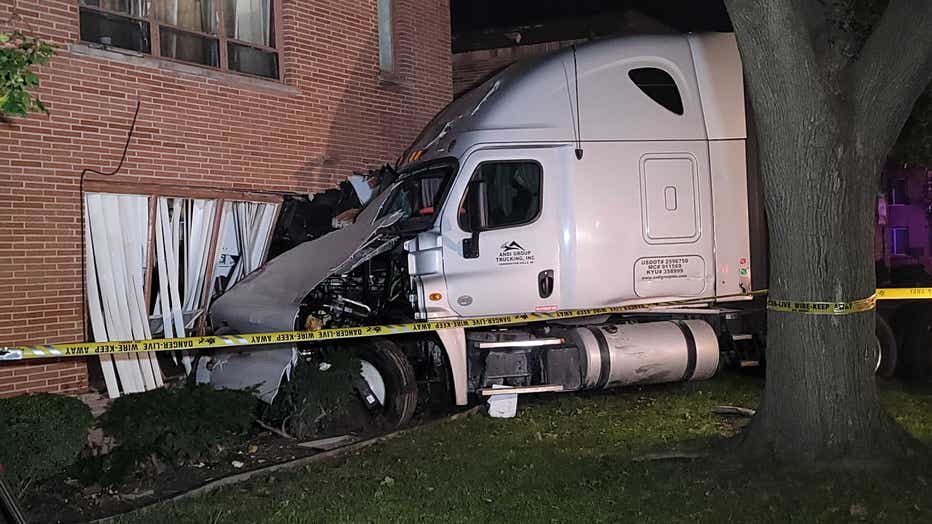 It's unclear what caused the semi-truck to lose control. It struck five parked vehicles before colliding with the corner of the apartment building. 
One resident who spoke with FOX 2 said that had the parked vehicles not slowed the truck's speed, the impact could have been a lot worse.
RELATED: As traffic fatalities spike, federal agency in charge of auto safety struggles to keep up
Witnesses at the incident didn't get a good look at the driver before he fled, only describing him as wearing a white jumpsuit. 
No other information was given.