Silicon Valley Bank items hit eBay days after collapse
EBay is getting hit with an onslaught of what appears to be Silicon Valley Bank corporate items — from t-shirts to used coffee tumblers — just days after it came crashing down. 
The collapse of Silicon Valley Bank marked the second-biggest bank failure in U.S. history after Washington Mutual in 2008. 
It's only been three days since the bank, the 16th largest in the U.S., failed after depositors hurried to withdraw money amid anxiety over the bank's health. Still, sellers are seemingly trying to capitalize on the news. 
SIGNATURE BANK SHUT DOWN IN CONNECTION WITH SILICON VALLEY BANK COLLAPSE
There are already a handful of listings for what some people are calling "genuine" corporate swage. 
For instance, an "SVB Hat and Tumbler" combo has already gotten over a dozen bids, pushing its asking price to $100. The items are described as "authentic and guaranteed to be 'limited edition'," according to the listing. 
Another item, an "SVB Full Time Box," is already selling over $200 after dozens of people placed bids. The seller claimed that this was the box they got after getting an offer letter just one month before the bank "blew up."
"Limited edition. Need to pay rent this month, please bid," the seller wrote. 
SILICON VALLEY BANK POSTED 'FINANCIAL CRIMES' SENIOR MANAGER JOB LISTING JUST BEFORE CLOSURE
Some used coffee mugs and wine tumblers are also on sale for between $30 and $50, attracting several bids. 
However, Ken Goldin, founder of Goldin Auctions, a marketplace for trading cards, collectibles and memorabilia, cautioned that these are only novelty items and should be "considered more as gag gifts."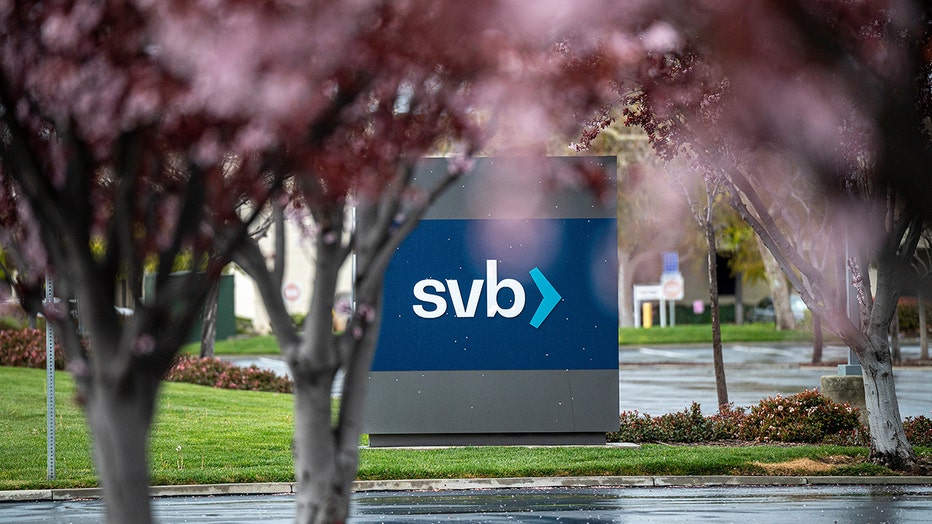 Signage outside Silicon Valley Bank headquarters in Santa Clara, California, US, on Thursday, March 9, 2023. SVB Financial Group bonds are plunging alongside its shares after the company moved to shore up capital after losses on its securities portfo
They "should not be purchased with future value escalation in mind," Goldin told FOX Business. "Whatever it sells for today will be a higher price than what it sells for two weeks from now."
Not only is the potential audience for these items limited, but they can also easily be reproduced or counterfeited over the years which will serve to depress the value of the original items.
RELATED: US government says all Silicon Valley Bank clients will have access to funds
For instance, some sellers have posted what appears to be newly created T-shirts with Silicon Valley Bank written on them for roughly $20. Another shirt reads: "SVB 250K Bank Run 2023."