Similar threats of violence reported at four Metro Detroit schools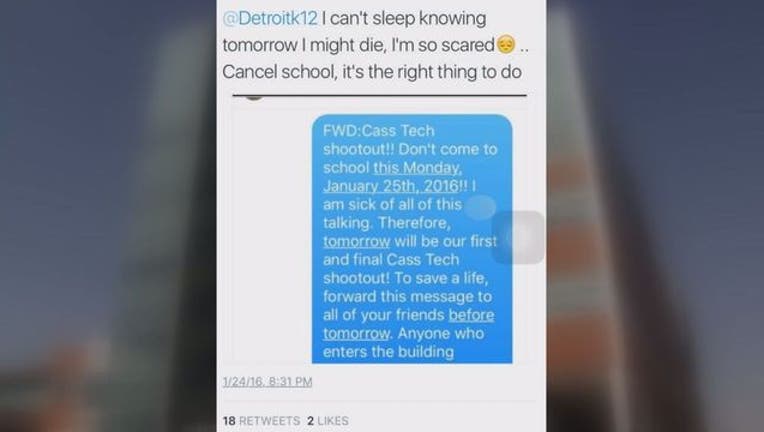 Police are investigating four different cases of violence that were directed at Metro Detroit schools but police believe the original one started in Detroit.
The Detroit Public Schools Police Department said late Sunday night they were investigating a threat made against Cass Tech. DPS police said it is investigating and working with Detroit Police and Homeland Security to ensure the campus will be safe for students, staff, and the public.
As of 7:30 AM on Monday, students were still waiting to go inside to their classrooms.
FOX 2's Roop Raj learned just before 8:00 a.m. Monday that it was a senior at Cass Tech who made the threat and was in custody.
Several other concerned parents from other schools contacted FOX 2. Warren Police were investigating a threat that a parent reported that was aimed at Lincoln High School. The parent said her daughter saw a threat aimed at her high school. In response to the threat, Lincoln High school was closed for the day.
Warren police said the threat may be a copy cat and was related to the threat aimed at Cass Tech.
Lake Orion schools were also threatened and classes were canceled at Lake Orion High School as the district and Oakland County Sheriff's Office investigates. 
SCHOOL CLOSINGS: Click here to view Monday's school closings
Parents in Roseville also said they received a threat. Roseville police were not responding to questions regarding the potential threat at the school.
The threat that was passed around to different schools all contained the same message: a warning  not to come to school on Monday, January 26th, 2016 and that anyone who entered the building would be shot. Police have not linked any of the threats together.