Skilled-trade jobs hang in balance, as District Detroit council decision nears, say advocates
DETROIT (FOX 2) - Nearly a decade ago, John Perkins was working as an apprentice at the Little Caesars Arena construction site in Detroit.
But he saw more than just concrete and nails - he says that he also saw the promise of tomorrow.
"So when I got down to Little Caesars Arena, at that moment, I saw this was more than just a job opportunity," he said. "This was a career."
That was 2015 and Perkins was 21 years old. But thanks to that start at the LCA site, Perkins says his career has flourished.
"Right now I'm a business representative for the Michigan Regional Council of Carpenters and my job is not only to expose these opportunities for young men and women and women in the City of Detroit, but create them," he said.
Perkins believes in District Detroit and how it can help future skilled trade workers. It is a proposed sports, entertainment, and retail development that includes several neighborhoods.
Perkins says it is an opportunity for others to blossom like he has.
"When you think about District Detroit and the development that they are proposing, it looks similar to Little Caesars Arena," he said. "If I can just think back to say if that Little Caesars Arena project never happened then there wouldn't be a John Perkins."
And advocates of District Detroit believe if it doesn't get city funding for the project, the future of Detroiters might be bleak.
"When we look at District Detroit, this represents a $1.5 billion investment to develop 10 new buildings in downtown Detroit," said Kenyatta Bridges. "We're talking about 12,000 new construction jobs."
Related: 'Stop gaslighting us': Protesters accuse Duggan and Ilitches of new District Detroit empty promises
And under Mayor Mike Duggan's executive order on hiring, 50% of those construction jobs must go to Detroit residents.
There's also job creation once the development is completed.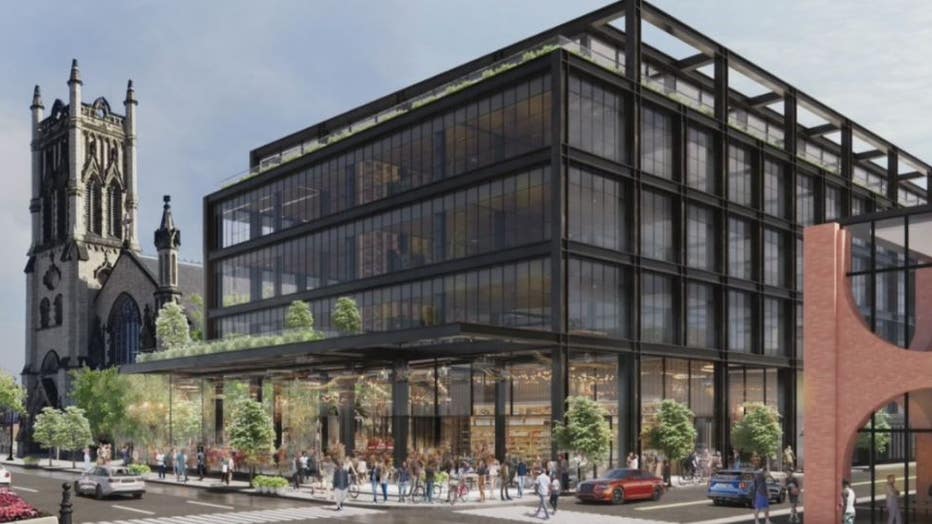 As some promote the benefits of District Detroit, others are opposed to it.
"People living in those areas will most certainly be economically impacted by this development, they will be displaced as property values rise," said Theo Pride, community organizer, Detroit People's Platform
Opponents also say the affordable housing promises made in District Detroit are still unrealistic for those who need it most.
"Those particular affordable units so to speak, become affordable for suburbanites and not Detroiters," Pride added. "Because 50% (Area Median Income) is only about the median income of Detroit itself. You have to go under the median income."
Related: City Council delays vote on $800M District Detroit tax incentive
Pride also has questioned the access Detroiters will have to job opportunities created by this development.
"My message to the council is for them to sit down and think about is this deal equitable for majority Black Detroit," he said.
But Perkins believes without District Detroit many Detroiters might not have a path to a brighter future like he did and he's urging City Council to approve the funding.
"That vote is the future of men's and women's careers in this industry," he said.