Snyder vs. Schuette 'feud' gains more attention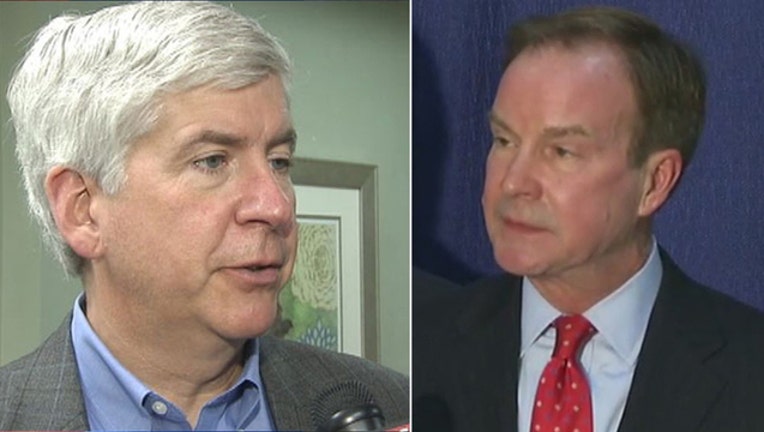 article
(WJBK) - Even though the state attorney general has suggested that the media is "over-thinking" and is giving it "greater scrutiny" that it might deserve, the media continues to dissect what one GOP source describes as the "deteriorating" relationship between Gov. Rick Snyder and his attorney Bill Schuette.
Mr. Schuette himself checked in on the story during a wide-ranging media round table last week, suggesting that his relationship with the governor was "fine" and even he and his best man at his wedding have had disagreements.
That was followed by about a 12 minute segment on this week's Off the Record during which the panel was asked to rate the relationship on a scale of one to ten. Two capitol correspondents gave it a three, one ranked it a two, another a six and the other a five.
Also enter the discussion this week, a Detroit News columnist describing it thusly, "the schism is widening between Michigan's top two Republicans" followed by "fraternal harmony between the two it ain't...."
During the interview last week, Mr. Schuette conceded the point that there might be some "competition" between staffers and he reports he has ask his staffers to "stay in our lane" and keep the right "temperature," but as for his overall concern he reflects, "I don't worry about that," while acknowledging that he and the governor are "different" and "collobrated" differently and "I think that's O.K."
The relentlessly positive governor has never said anything in public that is critical of his fellow Republican,but someone with supposed inside knowledge indicated the other day the governor did describe Mr. Schuette as a "publicity hound."
MIRS caught up with the governor in Grand Rapids on Wednesday and broached the subject.
How would you describe your relationship with Mr. Schuette?
The governor could have said, we are best of friends, we may not see eye to eye all the time but we're mostly on the same page (Mr. Schuette claims that happens 95% of the time.), or he could have offered no comment.
What he did say was it was a "professional" relationship adding this, "I appreciate his role as attorney general. As governor I'm responsible for most of the executive branch and we're both working hard to get our jobs done."
What about this perceived rift between the two?
"Anytime you have more than one person, both can have different perspectives that can occasionally happen but the hope is you keep working forward and try to work in good faith to solve the problems of the people of Michigan."
But what about that alleged "publicity hound" quote?
"No, I've never used those terms to describe the attorney general," he asserted.
Not even in private?
"No. Not to my knowledge."
When it was suggested a "good source" had suggested that, he stayed on message, "I've given you the answer from the horse on this one."