Striking University of Michigan grad students detained after approaching school president at restaurant
ANN ARBOR, Mich. (FOX 2) - Some protestors who are striking against the University of Michigan were detained Thursday after going to the restaurant where President Santa Ono was eating.
Since November, the university and the union have been in talks over demands by graduate student workers for a living wage and other benefits.
"In this case, President Ono was having dinner at a place in downtown Ann Arbor, and that day, yesterday, we found out by looking at our checks that our pay was going to be docked," said Alejo Stark, a graduate student and member of the GEO.
Read: Striking U-M grad workers shut down construction site in bid for fair wages
Union workers say campus police were called to intercept at an off-campus location.
"I was shoved by one of the campus police, which is a campus police officer. There's video of me being pushed to the ground by the police officer," Stark said. "The police officer began to twist my hand, so there's a video of me kneeling on the ground because he was twisting my hand so that I would basically come to my knees."
Stark says he and another person were detained by police who were called on them.
"I was concerned, particularly because he kept saying, 'Stop resisting,' and other members are saying he's not resisting," he said.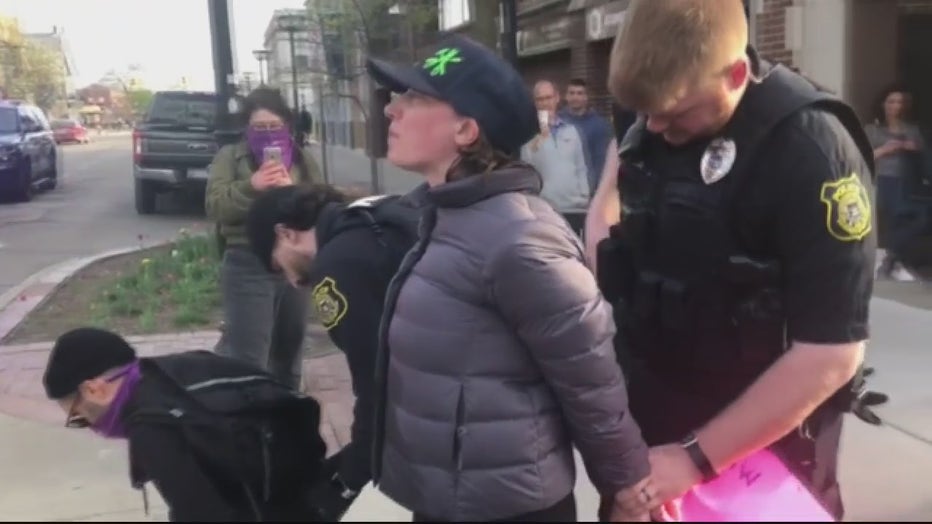 The university tells a different story of what happened. 
"Police officers were already at the restaurant with the president," said Rick Fitzgerald, with U of M. "I think it's a bad look for GEO, to be honest with you, to be essentially stalking the president."
He also said student workers are aware that the university president is not involved in contract talks and the grad workers are also aware that their pay would be impacted by their choice to strike.
"If they're working they'll be paid, if they're not working they won't be," Fitzgerald said.
As the strike continues, so do negotiations, but both sides admit there's not much movement.
"I just don't see a way to resolve this until they're willing to look at something less than 60 % pay increase," Fitzgerald.
The student workers say they still want to speak to Ono.
"He's been silent about all this. He gets over a million dollars a year in his paycheck, and they tell us every day that what we're asking is unreasonable," Stark said.