Students promoting 'gun-sense' candidates at Get out the Vote rally Sunday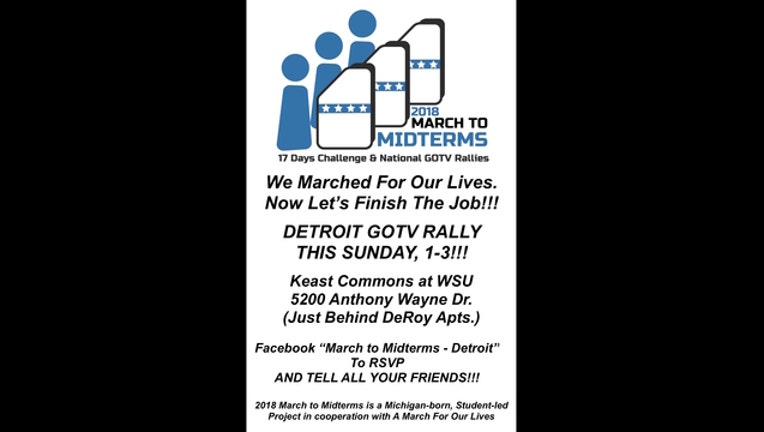 (WJBK) - March to Midterms is having a student led "Get Out the Vote" rally Sunday held at Wayne State University.
March to Midterms is a nation-wide, student-led "Get Out the Vote" campaign geared toward promoting "gun-sense" candidates vying for office in the 2018 Midterm Elections.
Students will pay homage to the seventeen students and faculty killed at Marjory Stoneman Douglas High School in Parkland FL earlier this year. While also holding a call to action on behalf of every American affected by gun violence across the U.S.
In more than a dozen cities, from Connecticut to California students have been organizing rally's to energize voters prior to Tuesdays election day. 
"Our key message will revolve around common sense gun reforms and promoting gun-sense candidates & legislation" says March to Midterms Adult-Lead Thomas Ledermann, "and vitally, of course, turning people out to vote, vote, vote this coming Tuesday.
Detroit Event Speakers Include: Congresswoman Debbie Dingell, 13th District Congressional Candidate Rashida Tlaib, State Senate Candidate Stephanie Chang, Detroit City Charter Commission Candidate Taylor Harrell, Solomon Rajput from Michigan Resistance, and more!!!
The rally is scheduled for Sunday, November 4th, 1-3 pm at Keast Commons, just behind DeRoy Apartments (5200 Anthony Wayne Dr., Detroit 48202).
RSVP on the March to Midterms Facebook event page here.