Teen shoots 40-year-old in Roseville • Crumbleys face potential trial • Anti-pet store bill in Berkley
TUESDAY NEWS HIT - A 40-year-old was shot twice Monday afternoon and Roseville police have a 14-year-old suspect in custody.
The victim is hospitalized and according to his family he'll need surgery. Video has surfaced showing a first-hand look at the shooting itself, which happened near Roseville Middle School and Steenland Elementary School.
In a social media video, a man wearing red pants is shot and falls to the ground. He gets up as the person recording drives away.
The victim was struck twice said Carl Reaves, who says the victim is his nephew's father.
"Once in the chest and once in the arm," Reaves said. "He approached my nephew and told him he was going to shoot him. And he pulled out a gun and my nephew's father was right there."
And according to Reaves, the suspected teen shooter had some history with his nephew's siblings.
"His sisters had some incident with this kid who did the shooting and they had to make a report about him," he said.
And when he saw the video that was posted to Instagram he was shocked.
"I just couldn't believe it," Reaves said. "It showed me that no one wants to fight."
Police say even though students had been dismissed, both Steenland Elementary School and Roseville Middle School were put on lockdown as a precaution.
Police responded and say they chased down the suspect - arrested him and found the gun.
"Everyone is shaken up and my nephew, seeing his dad get shot," Reaves said. "That's traumatizing."
The 14-year-old is being held while detectives prepare to hand the case over to the prosecutor for charges.
"You want to act like an adult? We will treat you like an adult," Reaves said.
The victim will undergo surgery tomorrow.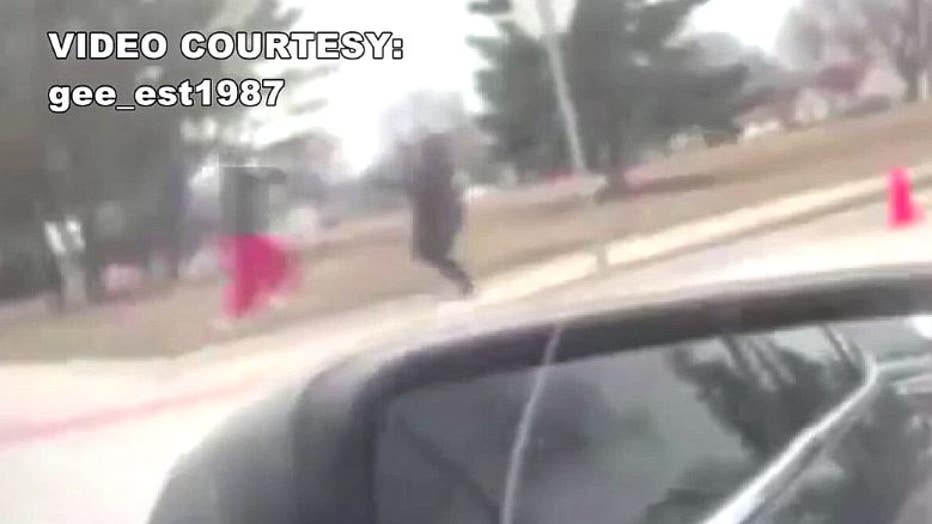 The district says that the elementary school was locked down because class was still in session. The middle school had already let out for the day so anyone remaining in the school sheltered in place until the suspect was in custody.
James and Jennifer Crumbley await trial decision
Should James and Jennifer Crumbley stand trial? More than a year after they were charged in the deaths of four teens shot and killed by their son Ethan, the parents have yet to find out if they should be tried with involuntary manslaughter.
After an appeals court upheld a decision by a lower court judge that the couple could stand trial, the state Supreme Court poured cold water on the ruling. They paused the trial schedule and asked the appeals court to reconsider their decision.
Oral arguments are expected Tuesday. If the parents are tried, it'll be an unprecedented case since the parents of a mass shooter have never been charged with a crime relating to their child's choice.
Ethan Crumbely has already pled guilty and is awaiting sentencing - though it likely won't happen until a court rules on whether his parents should stand trial. 
Berkley weighs anti-pet store bill
A new pet shop in Berkley drew debate over the ethics of animal breeding Monday night when citizens packed into a city hall meeting to discuss a new law that would ban stores from selling cats or dogs.
The discontent escalated after a new business called Puppygram moved in on Woodward. Its management said it was trying to fill a need, with CEO Miles Handy saying his desire was to help stop people from getting scammed. 
"We hate puppy mills just as much as everybody back here hates puppy mills," Handy said. "When we talk about the scams that have taken advantages of our seniors, our community members, it's real. That's one of the reasons why I started Puppygram. Because we are full of transparency."
However, council members after recently approving the store's opening are now considering bills that would outlaw selling pets in Berkley. The new location is the third under the Puppygram title. 
Why DTE doesn't bury more of its power lines
After a series of outages in Metro Detroit worsened periods of severe weather into scenes of darkness for citizens around the region, DTE is facing a fresh round of criticism for the severity of power losses. 
The utility says about a third of its grid is now underground. New neighborhoods being erected in Southeast Michigan often come with power lines going underground, lessening the risk of snow and ice knocking out electricity. 
But converting old power grids isn't as easy as building new ones. It also comes with exorbitant costs, DTE's vice president of distribution operations said. "Right now, those construction costs run as much as 5 to 6 times as high to convert from underground versus kind of an overhead rebuild," said Ryan Stowe,
However, the Michigan Public Service Commission is considering having utilities put more of its grid below the surface, saying in a statement it asked each utility to provide cost and benefit information, as well as the maintenance cost differences between overhead and underground lines. 
Babysitter of 1-year-old who died after beating, charged with murder
A 37-year-old man has been charged in the brutal death of a 1-year-old baby he was supposed to be babysitting, months after being arrested in connection with the incident. LeRoy Metoyer III has been charged with one count of felony murder and one count of first-degree child abuse. 
He was arraigned over the weekend. Prosecutors say the 37-year-old was babysitting Justice Starks when he assaulted her in November. The child was treated at a nearby hospital for her injuries but died a few days later.
According to the baby's father, the suspect wasn't a hired babysitter. Instead, he was dating the child's mother. "There was no situation where he should have even been caring for my daughter," said Jenerius Starks. "She has grandparents. She had me. (There) was available people that loved her."
Detroit police also tell FOX 2 that this case has been wrapped up with this arrest.
Live on FOX 2
Daily Forecast
Plan on a calm few days this week with expectations of sun-cloud mixes and temperatures in the high 30s. Snowfall is possible on Friday, but it's not clear how much could accumulate.
What else we're watching
DTE's latest rate case request will go before a judge Tuesday, the Michigan Public Service Commission said. The utility is asking for it's largest ever rate hike, months after getting approval for its previous request.
James and Jennifer Crumbley aren't the only Oxford-related news being made Tuesday. Ven Johnson, who is representing the families that sued the school district, will speak to media Tuesday morning after the case was dismissed. Judges said the district and its employees were protected by government immunity and couldn't be sued.
The 2023 State of the City is today. Mayor Mike Duggan will deliver his address from the Michigan Central Station, which is still undergoing restoration to be Ford's new mobility hub.
The Michigan Republican Party plans to address recent gun legislation that was heard in Lansing last week. Chairwoman Kristina Karamo will join Republican lawmakers at the steps of the Capitol.
The University of Michigan's new president is set to be officially inaugurated as the school's 15th president today. The ceremony will take place at the Hill Auditorium.
National Story Headline
After 17 years of cooking delicious food and interviewing celebrities to entertain the masses, Rachael Ray is saying goodbye to her talk show, "Rachael Ray."
"In my more than 20 plus years in television I have had 17 wonderful seasons working in daytime television with Rachael. However I've made the decision that it's time for me to move on to the next exciting chapter in my broadcast career," Ray said in a CBS news release.  
Ray further explained that she is going on to curate new content at her new production company, Free Food Studios which will focus on "in the kitchen content" created by Ray Free Food Studios will serve as a platform for the introduction and development of new and upcoming epicurean talent, CBS said.