Train derailment in Van Buren Township closes multiple roads, police say
VAN BUREN TOWNSHIP, Mich. (FOX 2) - Authorities are responding to a train derailment in Van Buren Township Thursday morning.
Authorities are asking residents to avoid the area of Huron River Drive and Haggerty due to a railroad accident investigation. Both north and southbound traffic is blocked due to the incident, which happened just south off I-94 and west of Belleville.
Roads will be closed for a few hours, the Van Buren Public Safety Department said.
It's unclear what happened, but police said there are no injuries and the area is not a hazmat situation. The department said there was "no evidence" of exposed hazardous materials and any train cars that contained hazardous materials had not been compromised.
No injuries have been reported as well. 
The office also requested residents nearby to stop calling 911 looking for information on the incident, "as 911 calls take priority."
"The investigation is active and ongoing, updates will be made to the public as they become available"
The Michigan Department of Environment, Great Lakes, and Energy (EGLE) also said there was no indication of threats to the public. Personnel were sent to the scene for further assessment.
Just before 2 p.m., EGLE said that, of the overturned cars, one had agricultural grain and the rest were empty. The train had one railcar with liquid chlorine in it but it was far away from the section of train that overturned. It was also one of the first sections of the train to be removed.
EGLE said no hazardous material was released into the soil or waterway as a result of the derailment.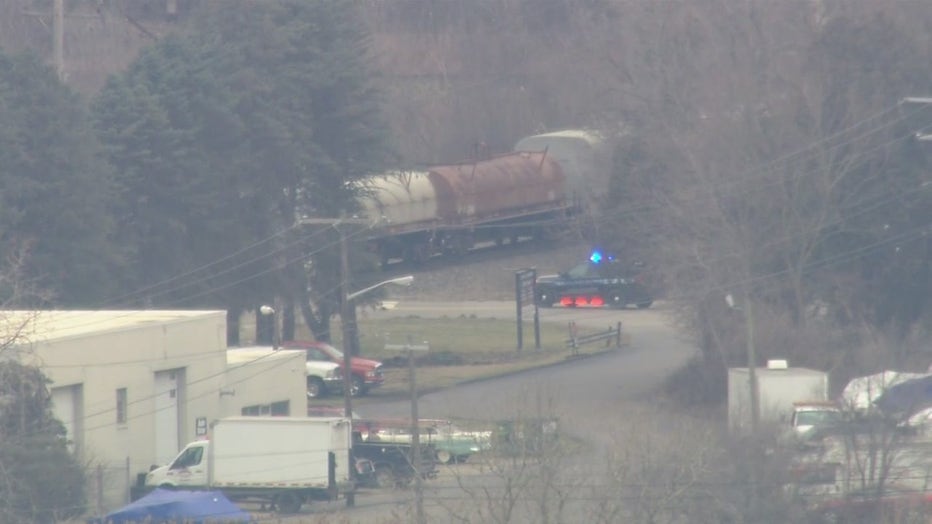 Train derailment in Van Buren Township. 
Congresswoman Debbie Dingell released a statement that she had been in contact with the local government.
"We are also in touch with the relevant federal authorities, including the EPA," she said. "At this time no one is aware of the release of any hazardous materials, the car carrying hazardous material has been put upright and is being removed from the area of the other derailed cars, and EPA is dispatching a team to ensure public safety. 
MORE: Upset Ohio residents pack town hall meeting seeking answers over train derailment
The derailment happened nearly two weeks after a train went off the tracks on Ohio, in the city in East Palestine. The incident sent toxic chemicals into the air, prompting concerns of contamination in the immediate area.