Train derailment in Warren could take days to clear up; public asked to avoid area
WARREN, Mich. (FOX 2) - A train derailment in Warren could cause traffic delays for several days after 16 cars left the tracks in the area of 10 Mile and Groesbeck.
A train carrying approximately 151 cars came to a standstill, blocking local roads in Warren and sparking concerns that a possible hazmat situation could escalate due to multiple tankers being derailed. 
Warren Mayor Jim Fouts said it was the worst train accident he's seen as mayor.
"This is the largest derailment in recent memory since I've been mayor. We haven't had anything like this in years, if not decades," he said.
The derailment happened around 7:30 a.m. when fire and police department crews were dispatched to Schoenherr and Stephens. It's unclear what caused the derailment, but officials have confirmed no injuries occurred. 
Fire Commissioner Wilburt McAdams said the three tankers carrying a liquid substance had unrefined alcohol and chlorine in them. Only one tanker was leaking but it wasn't a danger to the public, McAdams said.
"Three of them are what we call tanker cars carrying products, including the base for an alcohol, as well as liquid chlorine," he said. "Those three cars are upright. The one car carrying the liquid alcohol base is leaking a little."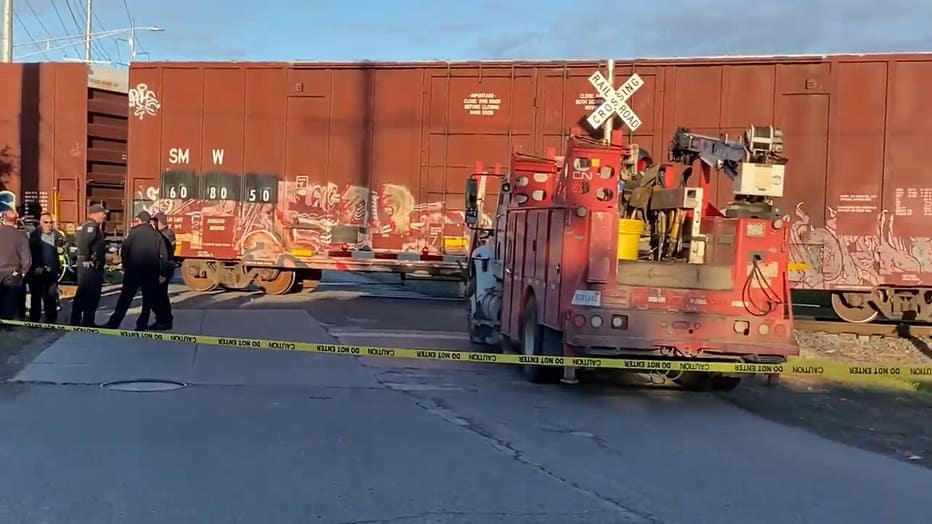 Photo via Charlie Langton
He said there is no danger to the public.
Drone footage over the derailment showed several train cars off the track in a tree-covered area of the railway. 
Officials asked that drivers avoid the area entirely as it could take days to clear the incident. They included:
10 Mile between Grosebeck and Schoenherr,

Schoenherr between 10 mile and Stephens,

Stephens west of Schoenherr.
The derailment is still under investigation.