Tree trimming truck hits I-75 overpass before McNichols causing southbound freeway closure
DETROIT (FOX 2) - Seven Mile is as far as you can get before you have to exit I-75 south Wednesday night. It will likely stay that way into Thursday as crews will temporarily repair the overpass that was hit by a tree trimmer, says the Michigan Department of Transportation. 

"At about 3 p.m. a truck slammed into a bridge pier and did a lot of damage," said Diane Cross from MDOT.
Michigan State Police say it was a tree trimmer with a crane which wasn't properly stored and so it couldn't clear the Oakland Street bridge near Nevada. But before repair crews could even think about fixing the damage - they first had to safely remove the truck from the scene. 
"Four and a half hours after the crash southbound I-75 is completely closed," Cross said. "We had to bring in county trucks to block traffic."
Once that was done, the southbound lanes were closed to allow repair crews access. It is a process that may linger into the morning commute. 
"We are not sure how long it's going to take," Cross said. "It could be during, or after rush hour. We won't know until they are working on the bridge."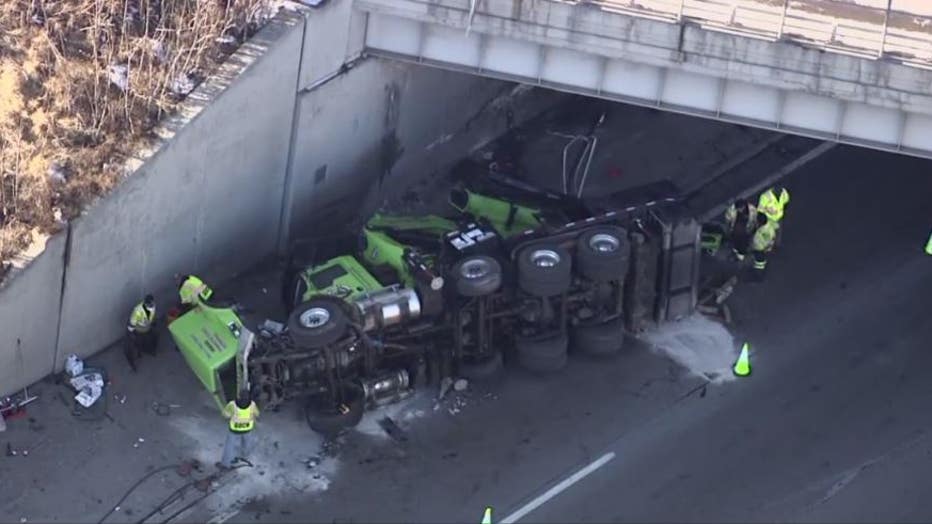 MDOT is encouraging drivers to plan alternative routes now. 
"The service drive runs along I-75 but depending on the volume, it might be better to go west and take Woodward south to McNichols and go back east and get back on southbound I-75," Cross said.
And we've just learned from MDOT that the steel in the bridge was fractured and they plan to weld some support plates to the bridge like a splint to a broken arm - and the hope is again to work through the night and be done before rush hour.