US Defense Department official charged in facilitating dog fighting ring
WASHINGTON - A Department of Defense official and another man have been charged with facilitating a clandestine dog fighting ring that authorities say executed the animals that lost the fights.
Officials say Frederick Douglass Moorefield, Jr., 62, of Arnold, Maryland, and Mario Damon Flythe, 49, of Glen Burnie, Maryland face promoting and furthering animal fighting venture charges.
The two made their initial appearances on Sept. 28.
According to the Department of Justice, Moorefield, who served as the Deputy Chief Information Officer for Command, Control, and Communications, for Office of the Secretary of Defense, and Flythe, used an encrypted messaging app to discuss dog fighting with people across the U.S.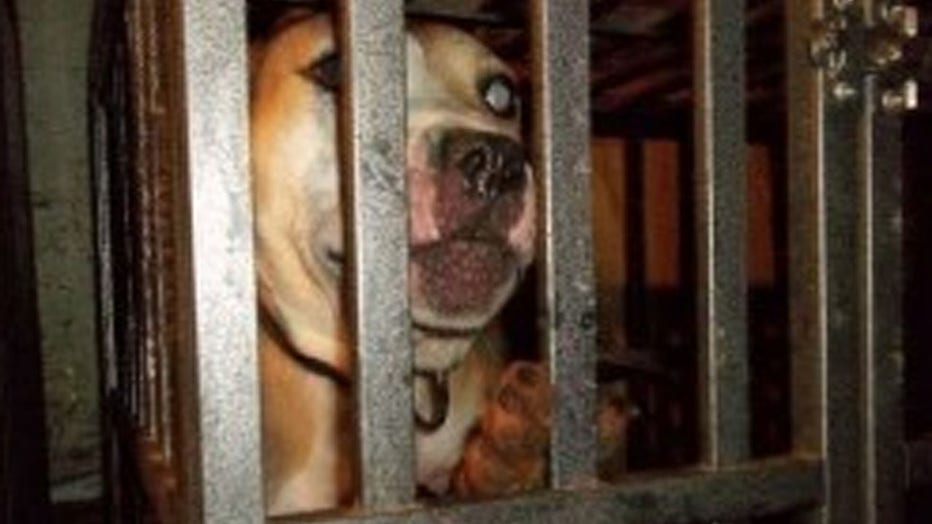 Pit bulls found at Moorefield's home on Sept. 6 were allegedly being trained for dog fighting, according to the DOJ. (U.S. District Court for the District of Maryland)
Moorefield allegedly used the code name "Geehad Kennels" while Flythe used the code name "Razor Sharp Kennels" to identify their dog fighting operations.
Officials say Moorefield and Flythe used the app to discuss how to train dogs for illegal fights, exchanged dog fighting videos, and arranged and coordinated dogfights.
They also allegedly discussed betting on dogfighting, dogs that died as a result of dogfighting, and circulated news reports about dogfighters who had been caught. They also allegedly discussed how to conceal themselves from law enforcement.
According to the DOJ, twelve dogs were recovered and seized by federal agents after law enforcement officers executed search warrants at Moorefield and Flythe's residences in Maryland.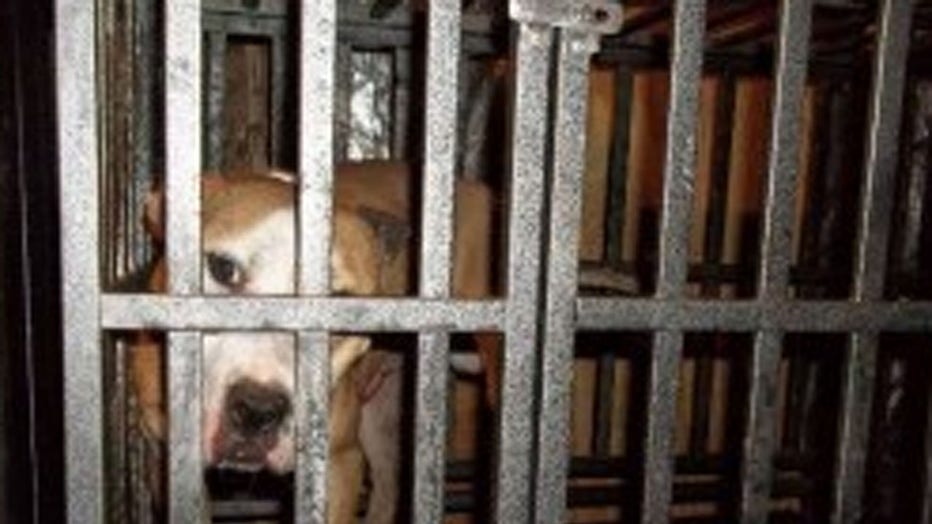 Pit bulls found at Moorefield's home on Sept. 6 were allegedly being trained for dog fighting, according to the DOJ. (U.S. District Court for the District of Maryland)
Authorities also say they recovered veterinary steroids, training schedules, a carpet that appeared to be stained with blood, and a weighted dog vest with a patch reading "Geehad Kennels."
Officers also say they seized an electrical plug and jumper cable device, which officials believe is consistent with devices used to execute dogs that lose dog fights.
Andrew Kenny, of Arnold, lives near Moorefield and witnessed investigators at the home in September, calling for Moorefield to surrender.
At the time, Kenny said he and other neighbors weren't sure why Moorefield was being investigated.
"We're pretty disgusted, mainly because everybody in this neighborhood has a dog or a cat. I don't know what to say about that, other than just…disgust," Kenny said. "Please, if you guys hear about this stuff, report it. If you have any inclination your neighbor might be doing a dog fighting ring … I mean, it's a nasty thing."
News of Moorefield's alleged involvement has gotten the attention of animal rights advocacy groups. Animal Wellness Action is a D.C.-based nonprofit that promotes legal standards to stop animal cruelty. 
The organization's president, Wayne Pacelle, said the issue of animal fighting runs rampant.
Pacelle added that more enforcement is needed.
"Just last week, we won an amendment on the floor of the U.S. House of Representatives to provide $1 million for active enforcement of our animal fighting laws," he said. "We also are the primary creator of the Fight Act, which is a bipartisan bill in the U.S. House and Senate to strengthen our national animal fighting law. One of the ways it would strengthen it is by creating a private right of action, so citizens can bring civil suits against dog fighters and cockfighters if law enforcement allows these animal fighting rings to persist."
The organization has been operating for more than five years, though Pacelle said he has been involved in animal advocacy for several years, including the 2017 indictment of former NFL quarterback Michael Vick and his involvement in dogfighting.
"I think this could be the next most important dog fighting case with this very high-profile individual involved," he said. "The Vick case was so startling because people wondered why an NFL quarterback, the highest paid player in the NFL, would take a risk in being involved in dog fighting, and you have to ask the same question with a senior official at the Pentagon. Why jeopardize your career?"
A statement from a spokesperson for the Office of the Secretary of Defense said their office was aware of the criminal complaint.
"We can confirm that the individual [Moorefield] is no longer in the workplace, but we cannot comment further on an individual personnel matter.  I refer you to the Department of Justice for any inquiries," the email to FOX 5 reads.
If convicted, Moorefield and Flythe each face a maximum sentence of five years in federal prison.