US soldier killed, 2 wounded in mortar attack in southern Afghanistan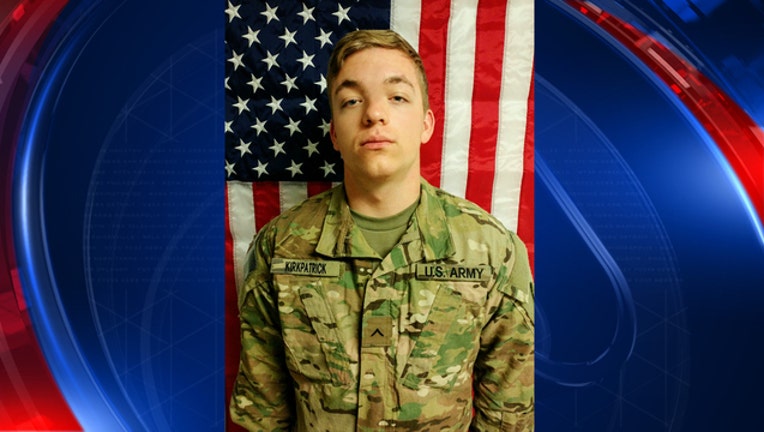 article
WASHINGTON - The U.S. military says that one U.S. Army soldier was killed and two others were injured in southern Afghanistan on Monday.
The U.S. says Pfc. Hansen B. Kirkpatrick, 19, of Wasilla, Alaska, was killed Monday in an indirect fire attack in Helmand Province. Indirect fire is an attack with shells launched from a mortar.
Kirkpatrick was in a building when a Taliban mortar round struck the roof and exploded inside, Capt. Bill Selvin, a spokesman for U.S. forces in Afghanistan, told Fox News. 
Kirkpatrick was assigned to the 1st Brigade Combat Team of the 1st Armored Division at Fort Bliss, Texas.
"PFC Hansen Kirkpatrick served honorably as a mortarman in 1-36 Infantry, the Spartans," said Maj. James C. Bithorn, executive officer, Stryker Brigade Combat Team. "He was a caring, disciplined, and intelligent young Soldier who daily lived the Spartan motto of 'Deeds Not Words.' His service in the battalion spanned just over 12 months - a period of intense operational tempo - that culminated in a deployment to Afghanistan in support of Operation Freedom's Sentinel/Resolute Support. He will be missed greatly by his fellow Soldiers and leaders alike."
Two soldiers were wounded in the attack. Their wounds aren't considered life-threatening and they're being treated at a coalition medical facility.
Soldiers returned fire after the explosion, killing two Taliban militants and wounding a few others.
"Our thoughts and prayers are with PFC Kirkpatrick's family and loved ones," said Brig. Gen. Mark Landes, 1st Armored Division deputy commanding general. "As there is no stronger bond than that between Soldiers, the Army and 1st Armored Division mourn the loss as a family."
The Pentagon is investigating the incident.
There has been a recent increase in U.S. military deaths and injuries in Afghanistan as the fighting season with the Taliban becomes more intense and American forces work more closely with their Afghan partners in the battle.
Hundreds of U.S. forces, including Marines, are in the south.
As of July 3, 2017, 40 Americans have been killed in Operation Freedom Sentinel, according to the Department of Defense.
---------
Information from the Associated Press and FOX News was used in this report.