DASHCAM VIDEO: High speed chase in Tesla ends in crash at 8 Mile
OAK PARK, Mich. (FOX 2) - Oak Park Police who were trying to arrest a man wanted for shooting a gun outside of a home on New Year's Day found themselves in a high speed chase as the driver tried to elude police.
According to police, they were called to a report of shots fired outside of a home in Oak Park on New Year's Day. As police pulled into the neighborhood, they found the car wanted - a blue Tesla - and appeared to have it boxed in on the residential street. The driver even pulled the Tesla to the side of the road before then sneaking between an oncoming officer and a parked car.
However, the driver of the electric vehicle - which appears to be a Tesla Model 3 - snuck between an officer and a parked car. 
Police followed the car as it turned left onto Coolidge out of the neighborhood between 9 and 10 Mile but the driver floored the car. The Model 3 boasts a 0-60 time of less than 2 seconds.
In dashcam video released by Oak Park Police, the Tesla is hard to follow as the driver tries to escape at an incredible speed. This section of Coolidge has a speed limit of 35 MPH. Police did not say how fast the Tesla was driving.
The officer chasing the Tesla was less than half of a mile behind the driver and in the distance of the dashcam video, a flash is visible. This appears to be where the Tesla crashed into another car at 8 Mile.
As the Oak Park officer comes up on the crash, a man is walking around the car and calmly surrenders to police. He was arrested.
Police have identified him as Faheem Nance but have offered no other information about the suspect.
READ NEXT: Metro Detroit man implants Tesla key into hand to unlock, start car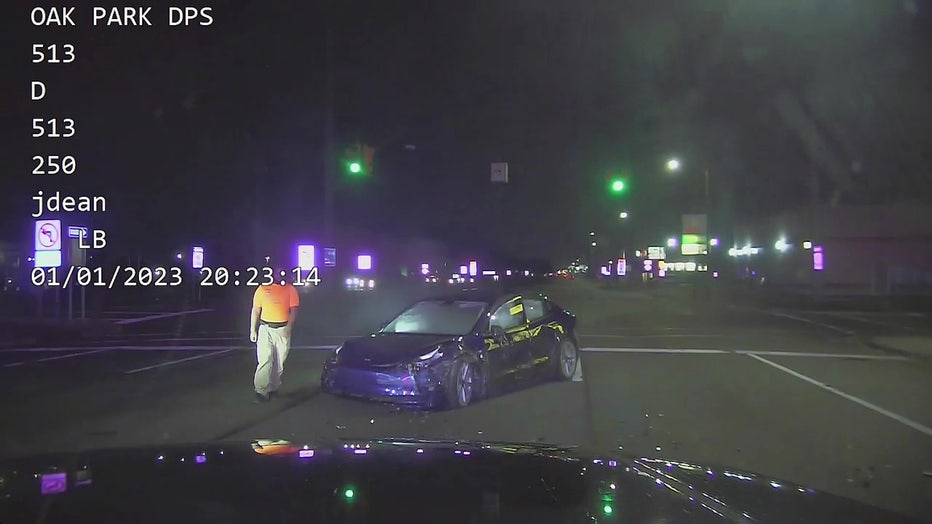 Oak Park Police arrested a suspect who led a high speed chase in a Tesla on New Year's Day.