Video: Road rage gunman suspect limps from crash after shooting wearing cast on his leg
INKSTER, Mich. (FOX 2) - A crash involving two SUVs in Inkster lead to a shooting - and the gunman was spotted limping away wearing a cast on one of his legs.
Nobody was hit by the gunfire, but a witness described the violent turn Wednesday afternoon. A woman in a blue Chevrolet Equinox rear-ended a driver in an off-white Ford Escape.
"He said, 'You f—ked up my mom's car!' Then, he pulled out a gun and bang bang bang," said Larry, a witness.
The crash shut down a busy section of Inkster Road and Avondale around 2:15 Wednesday afternoon.
Phone video from another witness shows the suspected shooter run away in a cast after firing shots at two women in the Equinox.
"But he was clearly in the wrong for even bringing out a gun, shooting at a woman at that. that's crazy," said Larry,
"It's unfortunate that people feel it's okay to open fire in a populated area like this," said Inkster Police Chief Bill Ratliff. "But as you've seen all across the country, it's becoming more and more frequent."
The Inkster chief says it appears to be a case of road rage.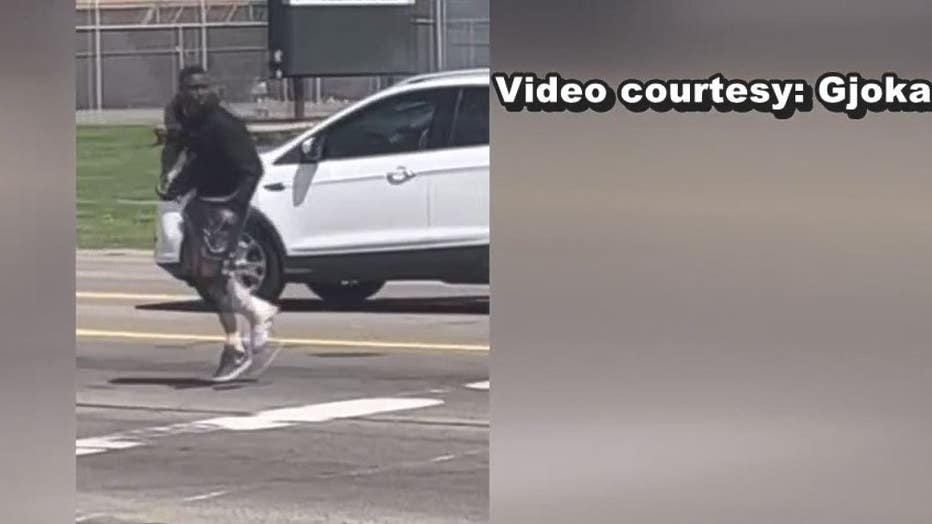 According to the group Everytown Research and Policy since 2018, the number of people hurt or killed during a road rage incident has increased.
Just last year in America, a road rage shooting victim was hurt or killed every 16 hours.
The women  but paramedics treated them for cuts and bruises related to the car crash.
The collision and shooting briefly rerouted traffic as kids were dismissed from a nearby school.
"The more concerning thing to me, is that if it is a result of road rage, people just need to be more patient," Ratliff said. "The fact that you would feel that it's okay to fire rounds into a vehicle involved in a crash. It's called an accident for a reason."
In addition to this investigation, the police chief said they had to deal with the challenge of misinformation. Ratliff said there were rumors and speculation that this was a lot worse - some rumors that it was even a mass shooting. Fortunately, that wasn't the case.
The police chief says, in the future if you see some information that's out there, verify it before you share it.