Videos of Trey Songz saying 'F*** the police*** can be used in case, judge rules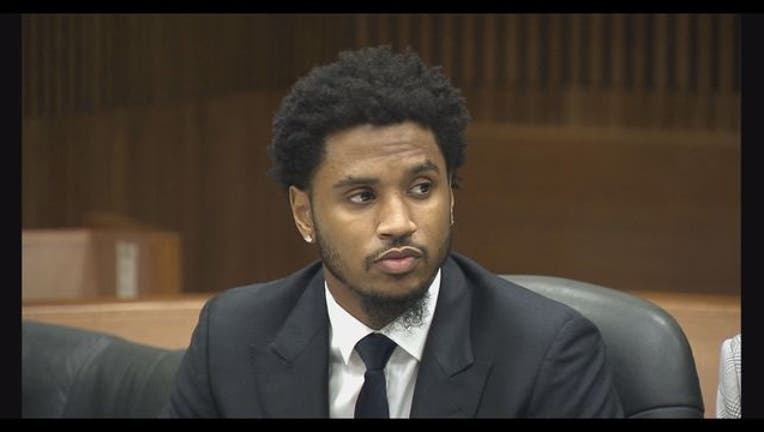 article
(WJBK) - A Wayne County judge ruled Tuesday that Snapchat videos of Trey Songz making vulgar statements about police can be use in the case against him for allegedly assaulting a Detroit officer.
Trey Songz, aka Tremaine Neverson, is accused of assaulting a Detroit police officer during a concert on Dec. 28, 2016 at Joe Louis Arena. His charges include one count of assaulting a police officer causing Injury, and one count of aggravated assault.
Wayne County Circuit Judge Lawrence Talon ruled on Tuesday that Snapchat videos of Trey Songz saying "F*** the police" can be used in the case against Neverson.
It's alleged that Neverson was performing when he said he was told he had to end his show at a certain time or his microphone would be cut. According to video recorded by concert-goers, Neverson then threatened to "go crazy" if that happened.
He's accused of throwing an object, hitting someone in the head during the show and when an officer went to arrest him, Neverson allegedly hit the officer after refusing to leave the stage.
A Detroit police sergeant was hit by an object thrown by the artist and suffered a concussion. The sergeant has since been released from the hospital.
The compellation of videos show Neverson saying such things as, "F*** the police" multiple times, as well as "F*** MGM," meaning the MGM National Harbor. He says he was ejected from Maryland casino for being "unruly." They say the videos were posted five days prior to the incident in Detroit.
"Given the fact that the defendant is highly unsatisfied with police as shown from these videos ahead of time, saying all these vulgar comments about police, it is relevant to show that the defendant intended to do the crime that he is charged with," prosecutors argued.
They continue to allege Neverson said similar vulgar things to police as they arrested him during the Detroit incident.
The defense argued that Snapchat videos can be up to 10 seconds long, meaning the video prosecutors played was a compilation. They say in order for those Snaps to be used in court, they have to used the original files. Defense attorneys don't believe prosecutors will be able to locate those original files.
The judge asked both prosecutors and defense what "F** the police" means. Prosecutors say this defines Neverson's intent and his attitude toward police, just days before the incident in Detroit.  Defense says it's just
F*** the police was made popular in 1988 by NWA with the song "F*** the Police." It parodies court proceedings and interactions between police officers and African-American men by presenting re-enactments of stereotypical racial profiling and police brutality.
In 1989, NWA was performing at Joe Louis Arena in Detroit and were told they could not play the song out of concerns the song would incite violence. When the group tried to play the song anyway, officers jumped on stage to stop the performance. It was the first time the group had tried to play the song on stage throughout the tour.
The incident was dramatized in the NWA biopic "Straight Outta Compton" in 2015.
The judge ruled the video could be used in the case, and defense attorneys asked that the full video compellation could be used to show that more people were joining Trey Songz in saying "F*** the police."
In March, he rejected prosecutors' plea deal, but his attorney says Neverson would prefer to go to trial.
RELATED: Trey Songz rejects plea for charges of assaulting officer, trashing stage at concert
The offer was to reduce his charge of resisting and obstructing a police officer causing injury to attempt to resisting.
That would be a one-year misdemeanor, along with a count of aggravated assault that's a one-year misdemeanor sentence to two years' probation, says Charles Coyle, assistant Wayne County prosecutor.
Neverson pleaded not guilty on both charges, and his bond was set at $25,000/10 percent. He quickly posted bail and was released from the Detroit Detention Center.
He did not speak to media or answer questions, but stopped to take photos with fans waiting for him outside the detention center.
RELATED: Trey Songz takes selfies with fans after being released from Detroit custody, see video
He also reportedly took the time to sing some songs before he went on his way.
The next court date has not yet been set, but his trial is scheduled for 9.am. on Sept. 12, 2017.