VP Kamala Harris in Ann Arbor talks 1-on-1 if she would run for president in 2024
ANN ARBOR, Mich. (FOX 2) - Vice President Kamala Harris spent the day in Ann Arbor talking about climate change. She was joined by local leaders at the University of Michigan and discussed investment in renewable energy and the impact of the Inflation Reduction Act, that was signed into law late last year.
"When I think about the shoulders upon which we stand and where we have now arrived, I think we all should take note of the momentum that we have achieved and our responsibility now sitting in these chairs in this moment, to then continue with this moment and lead and not waste a minute - because we don't have a minute to spare."
After her speech, the vice president said down and spoke with FOX 2's Roop Raj, who got to speak with her about a few other issues as well, exclusively, 1-on-1.
The vice-president was asked about the viability of President Joe Biden in 2024. Is Biden ready for a second term?
"Let me tell you something, Joe Biden is strong and history is going to show that even in just his two years he has accomplished more than most administrations could have hoped for," Harris said.
Roop Raj: "Would you consider the job?"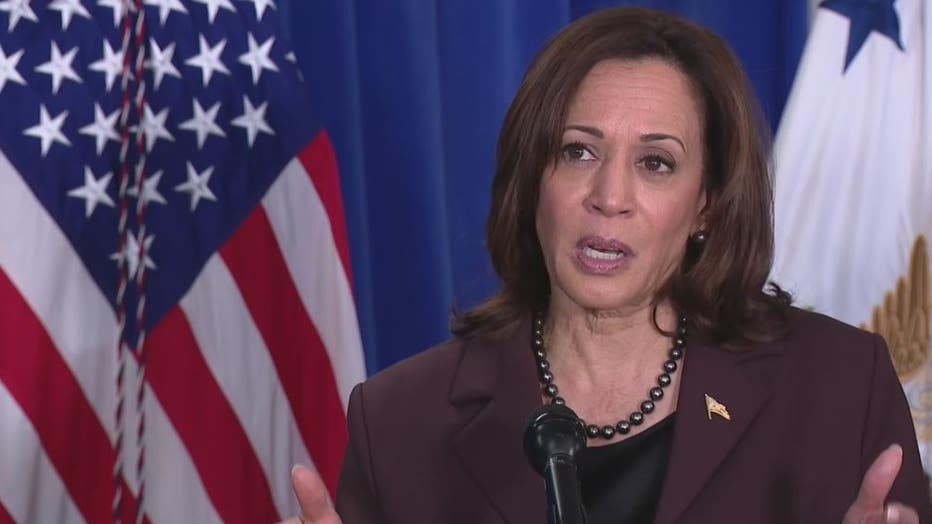 "Let me tell you something, when you look at for example, when we judge any leader, let's judge them on their track record of effectiveness," Harris said. "Many many leaders said that they were going to pass an infrastructure bill. Joe Biden got it done.
"What we are now building up here in Michigan, the money that is going to come into this state, to build back up roads and bridges. We are, because of what we have accomplished under Joe Biden's leadership, going to get lead out of pipes, across America. Done. Within the next 10 years, because of Joe Biden's leadership."
Roop Raj: "Is it a job you would consider in the future?"
"I am proud to be Joe Biden's vice president," Harris said. "And he has said that he intends to run again, and if he does - I will be running with him."
FOX 2 also had a chance to speak about longtime Michigan Senator Debbie Stabenow stepping down. Kamala Harris reflected on her time working with Stabenow, a Democrat, while she was a senator through many different issues,
And then we had a chance to talk about border and the border crisis that does continue. See that part of the interview HERE.