Warren man watches garage burn from downed wire as DTE takes 6 hours to respond
WARREN, Mich. (FOX 2) - You can hear the panic in Chaz Jackson's voice on video after a power line fell next to his garage in Warren.
"Our house is about to burn down," he says. "The fire department can't stop this (expletive)."
It happened just before 10 p.m. Wednesday night after the big ice storm. Within minutes, the Warren Fire Department responded but it's an electrical fire  - and only DTE can turn off the electricity.
"Everything in that garage that we know and love is gone," Jackson says on video.
Four hours later at 2 a.m. the fire was still burning - and DTE Energy still had not arrived.
"That's where we stored all our (stuff) we've got a small house," he says on video. "Look at this (expletive), oh my ... God."
The panic in Chaz's voice turned to desperation ... still no DTE.
"Oh no it's coming into the house. Oh s---, oh s---," he said. "Childhood pictures. I got brand-new furniture in there. I got everything in there."
In the morning, six hours after the downed power line DTE showed up.
"I had brand new leather furniture in here that I bought from Gardner White, $4,000+" he said.
Jackson gave FOX 2 a tour Thursday morning after the fire.
"This was a brand-new GE refrigerator," he says gingerly stepping through the charred rubble. "Up in these rafters here, we stored all our family stuff - you see how small our house was, no basement, no upstairs. We stored all our summer clothes, pictures."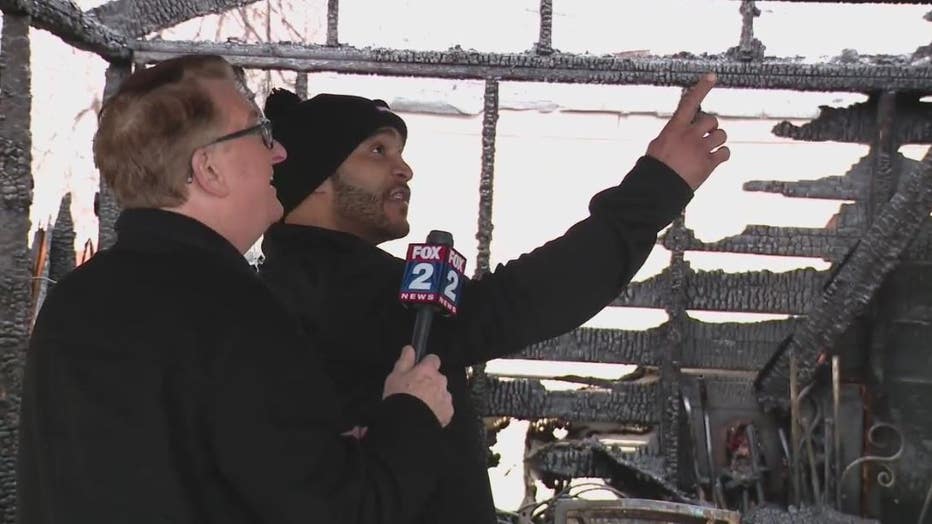 Chaz lives in the house with his 64-year-old mother and his 10-year-old niece. There were no injuries and the house is okay.
"Y'all dropped the ball on that one DTE," he said.
But in a statement, DTE Energy says that it is aware of the incident, and they are working closely with local officials to investigate.
"DTE is aware of an incident in Warren involving a downed power line near a customer's garage. We are working closely with local officials to investigate. Report a power outage or downed wire to DTE immediately through the DTE app, dteenergy.com or by calling 800-477-4747.
Chaz says he is staying strong.
"I'm not going to hold my head down and cry about it," he said. "I'll get it all back, I'm a hard worker."
Stay at least 25 feet away from any downed line and always assume they are live. Report a downed line with this link.
Click HERE for the DTE Outage Center and HERE to report an outage.