Warren rolls out automated license plate cameras
WARREN, Mich. (FOX 2) - Every vehicle and license plate that rolls past one of the automated license plate readers in Warren will get captured.
But the Warren Police say they're looking for so-called hot plates - stolen vehicles, violent criminals, missing kids.
"This is not for the enforcement of minor traffic violations - not for that purpose at all, not at all,"  said Police Cmdr Brandon Roy.
Twenty-two Flock Safety Automated License Plate Reading cameras will be placed in Warren as part of a 60-day pilot program to curb and catch serious crime and criminals.
"The agencies that have deployed these cameras have had overwhelming success," Roy said. ."We expect to have the same results."
Roy sites national data showing 70 percent of crime involves some kind of vehicle. The cameras placed strategically along what they refer to as "common paths of flight" out of the city.
"Where people involved in criminal offenses would commonly flee," he said.
"It would be a good idea, it's just how people go about kind of misusing that," said one wary resident. "Alot of people can access cameras from online nowadays."
Roy tells FOX 2 that Flock stores all of this information in an encrypted database, and takes measures to ensure it doesn't fall into the wrong hands.
"Even though we have access to the information - it is not an open book. We want the public to know there are controls on the dissemination of that information," he said.
Roy says the cameras are solar-powered and are cellular-enabled.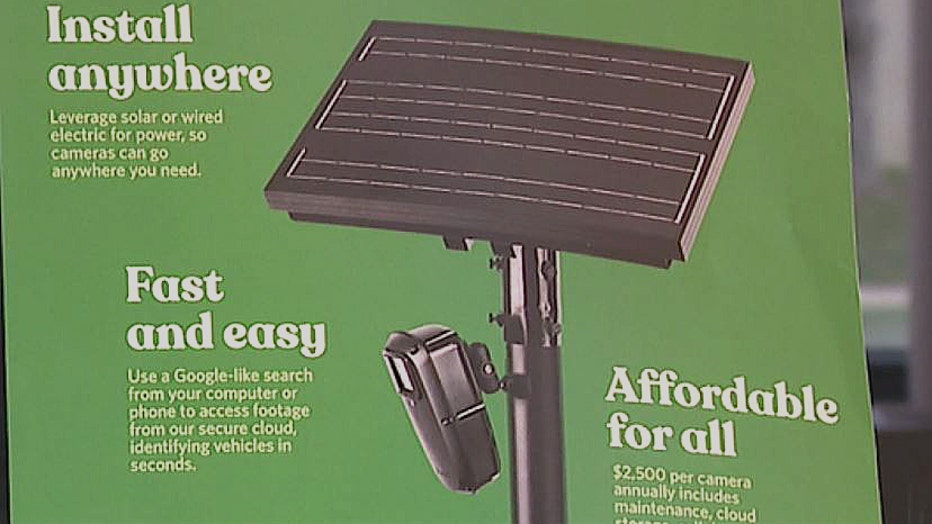 As soon as a vehicle and plate are photographed it goes into a system, which is linked into the national crime information center.
If the reader finds a so-called "hot plate" computers in patrol cars would also get an alert in near real time.
The tech has been in use on some of the city's police vehicles for some time and soon each patrol vehicle will have this tech as well.  
"These are not facial recognition cameras," he said. "These are not live cameras.. this is not a mass surveillance program."
Roy says the images only last in the system for about 30 days and then it's gone. The program costs about $60,000 up front but $55,000 of that, he says, is covered by a grant.
If the city doesn't like it after the   trial period they can discontinue the program with no cost to them.