WATCH: Snyder appeals to voters for passage of sales tax hike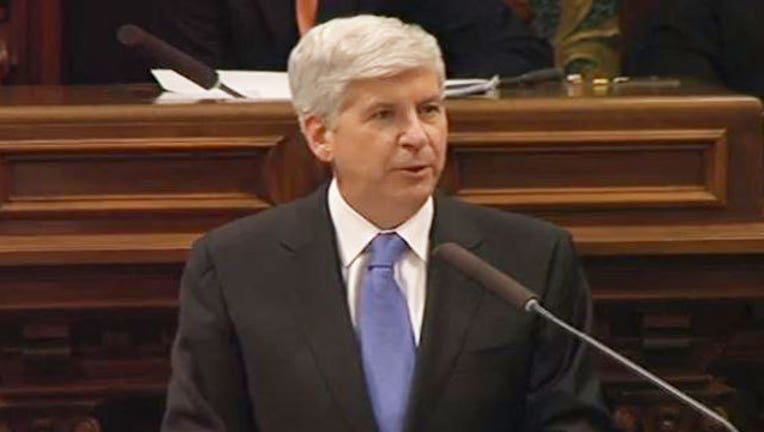 article
LANSING, Mich. (AP) - Gov. Rick Snyder announced plans Tuesday to "dramatically" restructure state government to help the poor and others enter society's mainstream, also calling in his fifth State of the State speech for passage of a sales tax hike on the May ballot to improve deteriorating roads.
The Republican governor, weeks into his second four-year term, said he will issue an executive order merging the Community Health and Human Services agencies into a new Department of Health and Human Services. 
 It's part of a long-term and still-forming plan to realign or eliminate at least 145 programs Snyder said are well-intentioned but facilitate dependency by addressing only symptoms of poverty and "slicing" people among various programs instead of treating them as "real people" -- sometimes taking their "dignity" away. 
ALSO: Watch Senator David Knezek's Democratic response to Snyder's State of the State HERE.
He said that reorganizing programs would allow caseworkers to more clearly understand the entire circumstances of people they are trying to help. 
"The system is failing folks," he said during a televised joint session of the Legislature inside the House chamber. "That's not how you solve the problem of helping people have opportunity."
He also outlined new education initiatives to ensure more students enjoy access to a "river of opportunity" without needing government aid in the first place. 
The initiatives include calling for the GOP-controlled Legislature to authorize an outside commission to focus on third-grade reading -- considered a critical benchmark -- and other prenatal-to-third grade issues to improve children's outcomes. He wants to increase efforts to improve the transition from high school to higher education, especially with a focus on training for jobs in the skilled trades.
 Snyder also used his bully pulpit to urge voters to pass a lawmaker-approved constitutional amendment on May 5 that would increase the sales tax from 6 percent to 7 percent, guaranteeing $1.2 billion a year more for road and bridge maintenance. If the measure is rejected, he and legislators will be forced back to the drawing board -- if the appetite even remains to fix declining transportation infrastructure.
 "Vote yes so we can have safer roads. Vote yes so we can get rid of those crumbling bridges and crumbling roads," he said. 
 He contended that it's an economic development and safety issue and said Michigan drivers spend $132 more a year on car repairs than their Indiana counterparts.
 Snyder also called for continued debate on a bill that stalled last session to amend Michigan's civil rights law to prohibit discrimination based on sexual orientation and gender identity; previewed plans to target prescription drug and heroin abuse; called for legislative approval of a new teacher evaluation system; and advocated for a rewrite of the state's energy law -- waiting to detail specifics until March.
 The governor intended for the government restructuring to be the key theme of a speech that also touched on accomplishments in 2014: Detroit's emergence from bankruptcy, voters' OK of a business tax cut and other initiatives.
 Restructuring or combining human services programs will be complicated, in part because many are federal or rely on federal funding. Food stamps, for instance, are paid for by the U.S. government but administered by the state, as is cash assistance for welfare recipients.
 Snyder spokeswoman Sara Wurfel said it's too early to say if there will be layoffs.
 Ray Holman, spokesman for United Auto Workers Local 6000, the largest state employee union, said regardless of whether there are one or two departments, "there needs to be enough staff to appropriately do the job. We have been doing more with less for way too long."
 The 11,000-employee Human Services agency sent layoff notices last week to about 100 workers, effective Feb. 15, because of a budget cut. Some of those workers could fill other vacancies.
 Dana Gill, a lobbyist for the Michigan Association of Counties, said a merger could streamline functions, but the group worries the "most vulnerable" residents could have a tougher time accessing services if there are cuts.
 Snyder said the number of social services programs should be "dramatically cut back" and there has not been enough coordination between the human services and health agencies.
 Snyder had ordered a reorganization in December of unemployment, job training, housing and economic development programs under one department.
Snyder delivered his speech Tuesday night at 7 p.m. and you can watch the entire State of the State address on this page. FOX 2 Mobile users, click here to watch.