Young teacher killed changing a tire on I-94 in hit-and-run leaves family heartbroken
FRASER, Mich. (FOX 2) - A 25-year-old woman is in police custody after allegedly killing Connor McMahon who was changing a flat tire on I-94.
Police say the driver ran from the scene and even bit an officer after they caught up with her and attempted to arrest her. FOX 2 has learned she bit a trooper before being taken into custody.
We are now learning more about the victim - Connor McMahon and the legacy he leaves behind.
McMahon was living out his dream - one that began when he was a student at Fraser High School.
"He had a teacher that he absolutely loved," said his father, Corey McMahon. "He decided there, and then he wanted to be the teacher that was different, that reached the kids in a different way."
He put himself through college at the University of Michigan, then back to Fraser High School, this time as a teacher. He had just wrapped up his first year, according to the district, teaching social studies.
"He couldn't have been more proud, he loved what he did, working with kids," said his dad.
On Tuesday night he was on his way back from a day of team-building for a Roseville summer school program.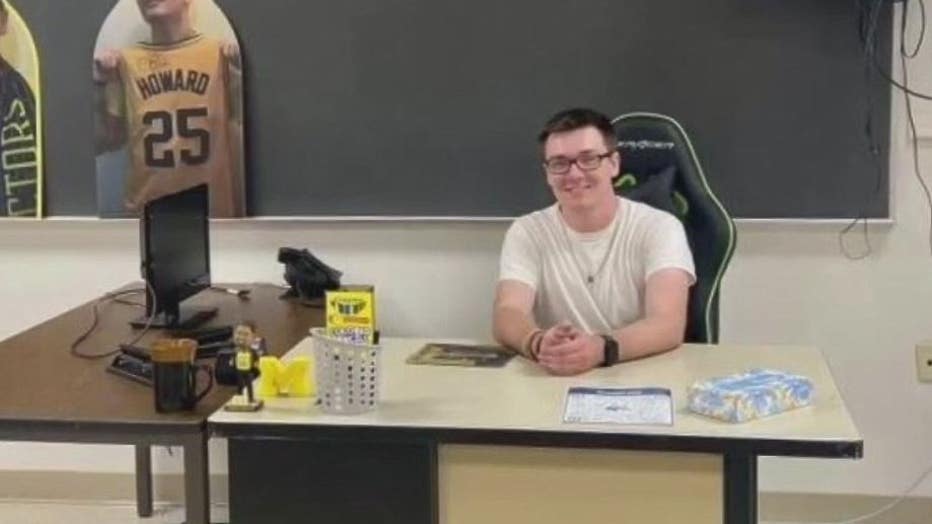 He got a flat, pulled over on I-94 near Vernier Road in Harper Woods, when he was struck by another vehicle. Police say the driver ran away and was caught, but Connor did not survive.
"We're devastated right now," Corey said. "There is no justice. this woman left him in the middle of 94 and fled on foot."
Through the grief of loss, the focus is on how Connor made the most of the time he had.
"Connor loved life. He was a little loud sometimes but he was passionate," said his mother, Kathleen McMahon. "If he was your friend, he was your friend forever."
Alexus Sernick met Connor when they were kids.
"He was so sweet. He always kept me laughing, that was my best friend in church," said Alexus. "I would look forward to seeing him every Sunday."
A friendship that never faded.
"He wrote, 'Will you go to prom with me?' on a pizza box in the shape of a heart. Of course I said yes," Sernick said.
And a man who put others first.
"He's always been the best big brother ever, I see it in Carter," Alexus said.
Carter, his youngest brother, who despite an injured knee, went to a movie premiere with Connor just days ago - and Connor was true to form.
"I heard him in the bedroom calling the theatre to make sure they had ADA seating available for his brother," their father said. "Nobody put him up to it. he did it on his own. He was just genuine."
It's that genuine spirit which will be Connor's lasting legacy. The family says someday down the road eventually they would like to see a teaching scholarship in his name.