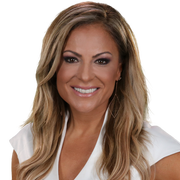 Taryn Asher
Anchor/Reporter
There's just something about Detroit TV news. I've always felt that way. Since I was 8 years old at least. I absolutely knew I wanted to become a broadcast journalist.  
I adore what I do. It's a passion. 
Currently, I anchor Fox 2 News at 5pm with Roop Raj. A good friend as well as colleague, so the teamwork and camaraderie you see on camera is legit.  
I am also honored— it's a privilege— to report stories that make a difference in our community. Stories that matter. I like to ask tough questions and give a voice to those who are struggling. 
I grew up in Fenton, attended Powers Catholic High School in Flint, and graduated from Michigan State University after studying journalism and political science. 
As soon as I graduated, I was hired as an anchor/reporter at Lansing's CBS station my career took me to Flint and ABC12, where as fate would have it, I met my now-husband, Jason Carr (shhhh— he's at the competition!). 
From being the 5pm anchor in Flint I moved to FOX 2 in 2007. 
It has been an incredible journey. I have covered everything from Presidents and politics, to the most dangerous crimes and taking on those who are responsible – even helping to change state law to ban the sale of synthetic drugs. 
Throughout my career, I have won 6 Emmy Awards including Best News Anchor and multiple awards from the Michigan Association of Broadcasters and Associated Press.   
But what means even more to me is being able to give back to the community and teaching our daughter how important it is.  I actively support several organizations including COTS Homeless Shelter, Jackets for Jobs, Light House of Oakland County, that provides housing and assistance to homeless families and Community Living Services, which helps disabled people gain their independence. 
There's nothing like spending time with friends and family, especially our 10-year-old, who is the light of our lives and tries to keep us with the times! Our two dogs Violet and Charli Tickles keep us busy too!  I find strength and peace practicing yoga and running outdoors. I am proud to say I have run the Detroit Free Press Marathon and survived! During our winter, I love to snow ski.  I love to travel – and look forward to a new vacation destination. 
But, I always like coming home.  There's no place like Michigan. There's no place like Detroit. 
You can always follow me on Facebook, Twitter, and Instagram @TarynAsherFox2. 
The latest from Taryn Asher