Damar Hamlin joins medical staff that saved his life at NFL Honors 2023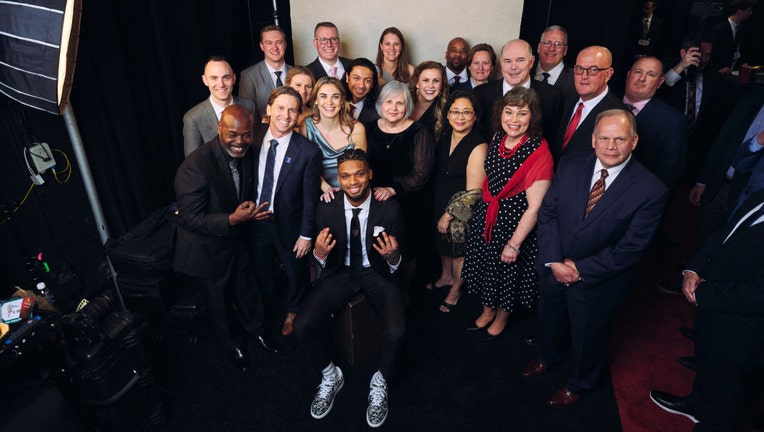 article
The first responders who saved Damar Hamlin's life were recognized with a tribute video at "NFL Honors" before being invited onto the stage.
The man they saved was right behind them.
Hamlin made his second appearance in Phoenix during Super Bowl week Thursday night, paying tribute to those who had a hand in giving him a second chance at life.
"My entire life, I felt like God was using me to give others hope and now with a new set of circumstances, I can say he's doing what he's always done," Hamlin said from the stage at Phoenix Convention Center. "I have a long journey ahead, a journey full of unknowns and a journey full of milestones, but it's a lot easier to face your fears when you know your purpose."
The Buffalo Bills safety received the NFLPA's Alan Page Community Award on Wednesday, a little more than a month after Hamlin went into cardiac arrest and needed to be resuscitated on the field in Cincinnati.
He appeared again at "NFL Honors" on Thursday night after the Bills and Cincinnati Bengals training and medical staffs, along with the staff at the University of Cincinnati Medical Center — collectively called "Team Damar" — were recognized.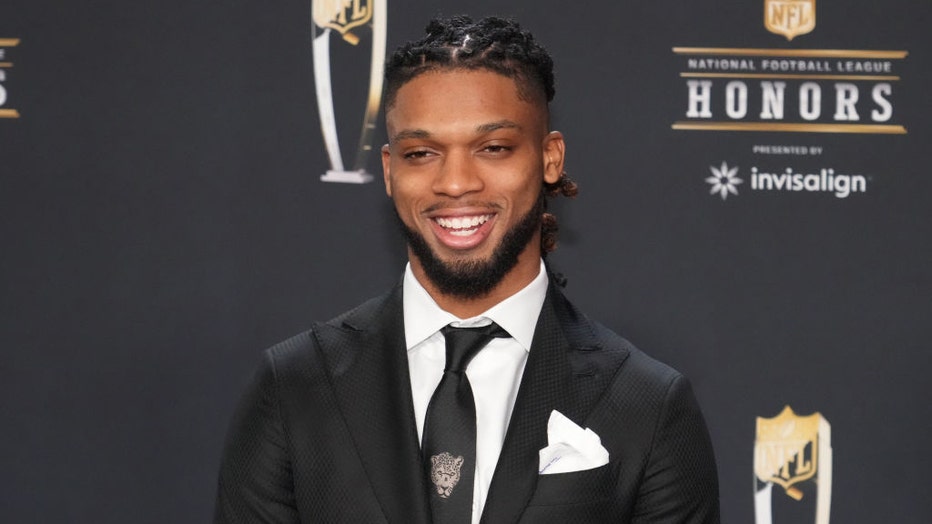 Damar Hamlin attends the 12th Annual NFL Honors at Symphony Hall on Feb. 9, 2023, in Phoenix, Arizona. (Photo by Jeff Kravitz/FilmMagic)
Bills assistant athletic trainer Denny Kellington, who performed CPR on Hamlin on the field, also earned a bit of appreciation during "NFL Honors," receiving a fifth-place vote for the NFL's MVP award.
Once onstage, Hamlin personally thanked an ICU doctor named Yusef, who, three nights into his hospital stay, told him he had been through something similar.
"He showed me he was OK and that meant so much to me," said Hamlin, who also thanked everyone on stage. "There was so much uncertainty at the time and just him coming to me, showing I could live a normal life again, it meant so much to me and my mom. I want to give a big thank you to him."
RELATED: Damar Hamlin 'will play professional football again,' NFLPA medical director says
Hamlin collapsed on the field after a collision with Cincinnati Bengals wide receiver Tee Higgins on Jan. 2. The sight of an elite-level athlete nearly dying on the field sent a shock across the NFL and the world.
In the days and weeks after Hamlin's collapse, his toy drive fundraiser received unexpected GoFundMe donations. "Chasing M's" has since raised more than $9 million.
"Sudden cardiac arrest is something I never would have chosen to be a part of my story, but that's because our own visions are too small even when we think we see the whole picture," Hamlin said. "My vision was about playing in the NFL and being the best player I could be, but God's plan was to have a purpose greater than any game in this world."
RELATED: Damar Hamlin makes first video comments since cardiac arrest: 'Direct example of God using me'
Hamlin spent nearly a week in a Cincinnati hospital before being flown to Buffalo, where he spent a couple of days in the hospital before being released on Jan. 11. He has made steady progress in what will be a long recovery, appearing at the Bills facility before attending their divisional game against Cincinnati.
Hamlin received the Alan Page Award on Wednesday and a standing ovation from his peers at "NFL Honors."
"Every day I'm amazed that my experiences could encourage so many others across the country and even across the world — encourage to pray, encourage to spread love and encourage to keep fighting no matter the circumstances," Hamlin said.
Hamlin has said he plans to support young people through education and sports with the GoFundMe donations. He also will use proceeds from the sale of new T-shirts, emblazoned with "Did We Win?" along with his hands in the shape of a heart, to raise money for the trauma center in Cincinnati that treated him.
"I told my teammates you might as well give the man of the year to Damar Hamlin, just for the way he's galvanized our country, brought us together," said Dallas Cowboys quarterback Dak Prescott, who was selected as the Walter Payton Man of the Year. "(He) made so many people understand the power of prayer, the power of community, the power of coming together and resiliency, not giving up and having faith."