Detroit Lions' Aidan Hutchinson and Ben Johnson up for NFL end of the year awards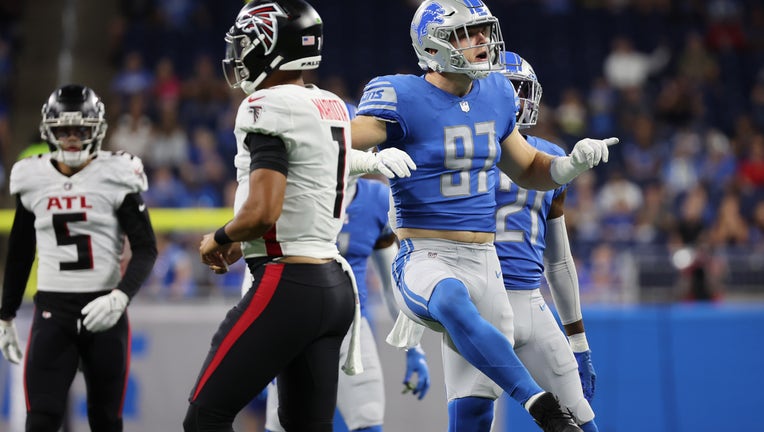 article
(FOX 2) - There are multiple Lions representing Detroit in the National Football League award season. One looks like an undisputed winner.
The nominations for the end-of-the-year awards underscores the team's improvement this season. 
The finalists include Aidan Hutchinson for Defensive Rookie of the Year and Offensive Coordinator Ben Johnson for Assistant Coach of the Year. Missing from the list of nominees was Dan Campbell, who missed out on Coach of the Year, despite the team's turnaround from just one year ago. 
Why was Dan Campbell not nominated for Coach of the Year?
Campbell had a very good season and improved a lot. Taking a three-win team and winning nine games one season later is remarkable.   
He unfortunately wasn't nominated for coach of the year. In the running is Brian Daboll from the New York Giants, Doug Pederson with the Jacksonville Jaguars, and Kyle Shanahan with the San Francisco 49ers.
One big difference between these three coaches and Campbell is they all led their teams to the playoffs. Even with the Lions ending with more wins than losses, it wasn't enough to carry them to the off-season. 
Their 1-6 start didn't help. 
Campbell also made questionable coaching decisions that impacted some of the games, such as his decision to kick a field goal during the Lions' first game against the Minnesota Vikings. They lost in the final seconds and Campbell said he "frickin regret" the kick. 
So if not Campbell, then who could win?
Based on season the 49ers had, it could be Shanahan's award to lose. 
This past season Defensive End Nick Bosa missed some time due to an injury, Wide Receiver Deebo Samuel missed the four regular season games in December, and the 49ers went through three different starting quarterbacks. Despite that, Shanahan kept winning.
He also won the NFC West while ending the season on a 10-game winning streak.
Should Aidan Hutchinson win Defensive Rookie of the Year?
The three finalists for Defensive Rookie of the Year in addition to Hutchinson is New York Jets Cornerback Sauce Gardner and Seattle Seahawks Cornerback Tariq Woolen.   
The award could actually go to any of these players because they were all impressive. Woolen was tied for first in interceptions with six and had 16 passes defended. Gardner had two interceptions and defended 20 passes.   
Both Woolen and Gardner had exceptional rookie seasons, but Hutchinson put up some monster stats. The former second-overall pick improved consistently throughout the year and put up massive numbers for a rookie.   
Hutchinson's 2022-2023 season:   
28 solo tackles, 52 combines tackles
9.5 sacks. (leads all rookies)
45 QB pressures. (leads all rookies)
3 interceptions
2 fumbles recovered
No other defensive lineman came close. He also tied 9th with all defensive players for fumbles recovered.
Hutchinson also had three games with more than one sack and is the first rookie since 1982 with at least nine sacks and three interceptions, according to the NFL on Twitter. They're numbers that indicate a promising career ahead. 
Ben Johnson up against stiff competition for Assistant Coach of the Year
Lions offensive coordinator Ben Johnson is up for Assistant Coach of the Year against former San Francisco 49ers Defensive Coordinator DeMeco Ryans and Eagles Offensive Coordinator Shane Steichen.  
Johnson was very successful and could win the award based on his 2022 season and even elevated him to consideration for head coaching positions around the league. 
RELATED: 3 free agents who competed in conference championship games the Lions could sign
Ryans, who was just named head coach of the Houston Texans, may have the best shot. His 49ers defense was as effective as any in stymying offenses and held teams to just 16.3 points a game. In a season when the offense went through several quarterbacks and playmakers, it required a defense that was able to share the burden in games. 
Without his defense, the 49ers may not have been 13-4 and 6-0 in the NFC West division.  
Here's how else the team performed in 2022-2023:  
Held offenses to 77 rushing yards and 188 passing yards a game
1st overall defense
2nd rushing defense
Now compare that to Detroit's 2022-2023 offensive stats:
Scored 26.6 points per game
Racked up 128.2 rushing yards (11th most) and 251.8 passing yards (8th most)
5th in total points per game
4th overall offense
Those are also good numbers, but they didn't carry Detroit into the post season. The team also had some disappointing showings in the middle of the season, including a two-game stretch against the New England Patriots and Dallas Cowboys when the Lions scored six total points. They allowed 53 points. 
The award winners will be announced Feb. 9 at the NFL Honors ceremony. 
The Lions could come away with some shining new accolades from this awards season, or none at all. But being in consideration for these end-of-year awards is a reflection of how far the franchise had grown in just a couple of years under Campbell and General Manager Brad Holmes.