Dickerson's disputed homer lifts Pirates over Tigers 1-0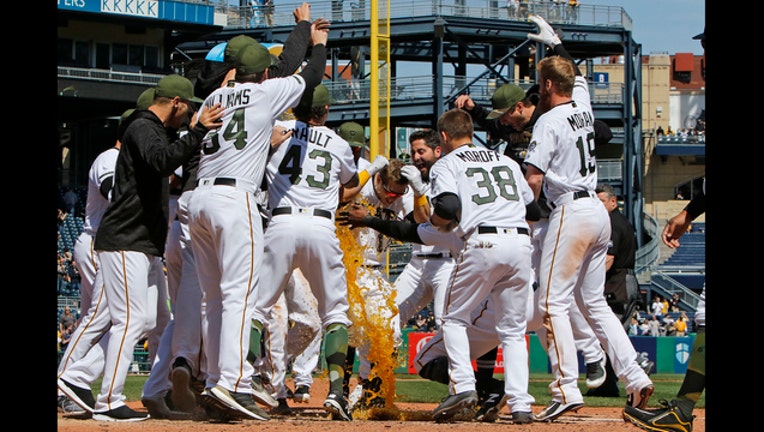 article
PITTSBURGH (AP) - Corey Dickerson celebrated his first game-ending home run in the major leagues. Twice.
Dickerson's disputed one-out drive in the ninth inning that lifted the Pittsburgh Pirates over the Detroit Tigers 1-0 Thursday.
He sent an 0-1 slider from Alex Wilson (0-1) just over the 21-foot-high wall in right field, at first standing at the plate and watching the drive before starting to jog up the first-base line. A fan in a black Pirates sweatshirt reached out and caught the ball, and Wilson immediately pointed to ask for a video the initial home-run call.
"It looked like it got out enough, but you never know," Dickerson said.
Dickerson rounded third base, rolled his helmet toward the plate and was mobbed by teammates, with Adam Frazier dumping a jug of Gatorade over him. Nearly two minutes later, the home-run call was upheld, and the Pirates exchanged more hugs. It was just the second home run of the season for Dickerson, who was obtained from Tampa Bay during spring training.
"These guys in the clubhouse have been great," Dickerson said. "I feel really comfortable here. The guys have treated me wonderfully and we get along really good together."
Felipe Vazquez (1-0) escaped a bases-loaded, no-outs jam in the ninth created by two singles and a walk. Third baseman Colin Moran fielded a hot shot from James McCann and threw home for a force out, Victor Martinez popped out and Jose Iglesias hit a ground ball that was snagged on a diving play by shortshop Sean Rodriguez, who tossed it to second to end the inning.
"I thought our defense showed up extremely well today," Pirates manager Clint Hurdle said.
Ivan Nova pitched eight scoreless innings and allowed six hits while striking out five. He got 13 outs on ground balls.
"When Nova puts the ball on the ground, guys are going to stay engaged and ready to make plays," Hurdle said.
Detroit's Michael Fulmer struck out nine in six innings while giving up four hits.
Leonys Martin was 2 for 4 with a triple and also reached on an error and went 5 for 14 (.357) in the series with two home runs and three RBIs
EARLY SHOWER
Hurdle was ejected in the bottom of the eighth inning by crew chief Mike Winters after Frazier was ruled out for leaving the basepath while attempting to advance from second to third on Starling Marte's two-out grounder to third baseman Niko Goodrum. Winters called Frazier out from behind the play after he eluded the tag. "I didn't like the call," Hurdle said. "He said he was all over it and I just don't think he was all over it. He's the ump. He made the call."
MAKING MOVES
Detroit re-called RHP Johnny Barbato from Triple-A Toledo, where he had a 1.17 ERA in six games with nine strikeouts and three walks in 7 2/3 innings.
Pittsburgh traded minor league OF Todd Cunningham to the Chicago White Sox for future considerations. Cunningham hit .130 in nine games with Triple-A Indianapolis.
TRAINER'S ROOM
Tigers: Fulmer was examined by trainers in the fifth inning after he had a cramp in his right thumb.
Pirates: RHP Bo Schultz (Tommy John surgery) pitched on back-to-back days Tuesday and Wednesday with Class A Bradenton and is ready to move up in his rehab. He pitched 10 2/3 scoreless innings with 10 strikeouts.
UP NEXT
Tigers: RHP Mike Fiers (2-1, 3.71 ERA) is to start a three-game series at Baltimore on Friday. He beat Kansas City on Sunday despite allowing 10 hits and striking out none.
Pirates: LHP Steven Brault (2-1, 4.44 ERA) opens a three-game against visiting St. Louis on Friday.