Howard gets 1st shutout of season, Red Wings beat Senators 2-0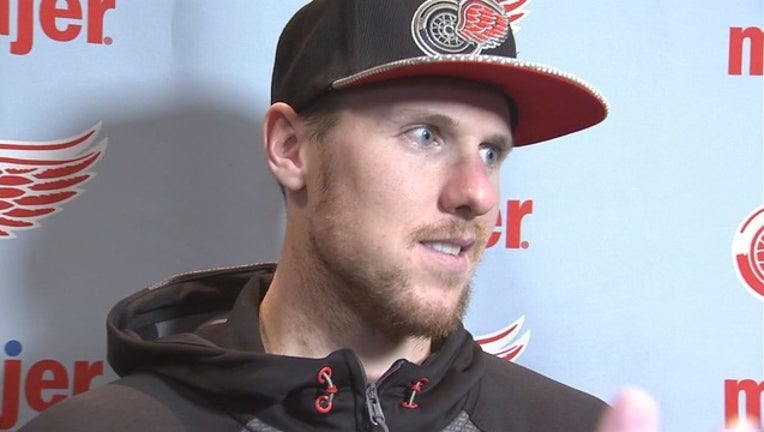 article
DETROIT (AP) - Out of the playoffs and sinking fast with one win in 14 games a week ago, the Detroit Red Wings could have embraced tanking to bolster their chances in the NHL draft lottery.
Instead, they launched a winning streak.
Jimmy Howard stopped 31 shots for his first shutout of the season as the Red Wings beat the Ottawa Senators 2-0 on Saturday for their third straight win.
Dylan Larkin and Andreas Athanasiou scored to help Detroit gets its longest winning streak since a season-high four-game stretch Dec. 29 to Jan. 5.
"We have a job to do every night and every day, and we've got a lot of young guys in here," Larkin said. "Every day is an audition and guys are trying to earn whatever it might be, whether it is more ice time next year,whatever.
"Your position on this team and in this league has to be earned every day."
Howard's best save was a sliding left pad stop on a second-period breakaway by Ottawa forward Ryan Dzingel.
"It feels good," Howard said after his 24th career shutout. "It took 59 games, unreal, but at the same time the guys in front of me did a really great job, allowing me to see the puck."
Mike Condon finished with 25 saves for the Senators, who were blanked for the ninth time this season.
"I can't comment on the offense, because if that's the case then all the offensive guys could comment on the goaltending," Condon said. "That's a slippery slope.
"Everyone's working their hardest. Everyone's trying to get a couple in there."
After a scoreless opening period, Detroit got on the board at 4:10 of the second. Taking advantage of a bad pinch by Senators defenseman Christian Wolanin, Anthony Mantha fed a pass across to Larkin on a 2-on-1 break, and Larkin flipped the puck in as Condon lunged desperately across his goal crease. It was Larkin's fifth goal in the last seven games. He scored nine times in the first 72 games.
"That was a horrible play on my part," Wolanin said. "It cost us the first goal and eventually the game winner."
Athanasiou increased the margin to 2-0 at 4:29 of the third. Using Evgeni Svechnikov as a screen, Athanasiou fired a high shot past Condon.
NOTES: Ottawa captain Erik Karlsson remained one point away from reaching 60 for the sixth time in his career. ... The Senators, who play three of their final four games away from home, fell to 11-22-5 on the road - one win more than Montreal for the fewest in the NHL. Last season, the Senators won 22 games away from home, fifth-best in the league. ... The Red Wings improved to 17-6-2 in their last 25 games against Ottawa. That includes five straight wins by Detroit at home. Ottawa's last road victory in in the series was a 3-1 decision on Oct. 30, 2015. ... Henrik Zetterberg remained one point from breaking a tie with Sergei Fedorov (954) for fifth on the Red Wings' all-time scoring list.
UP NEXT
Senators: Host Winnipeg on Monday night in their final home game of the season.
Red Wings: At Columbus on Tuesday night.