Lindor drives in 3 runs, Indians top Tigers 9-3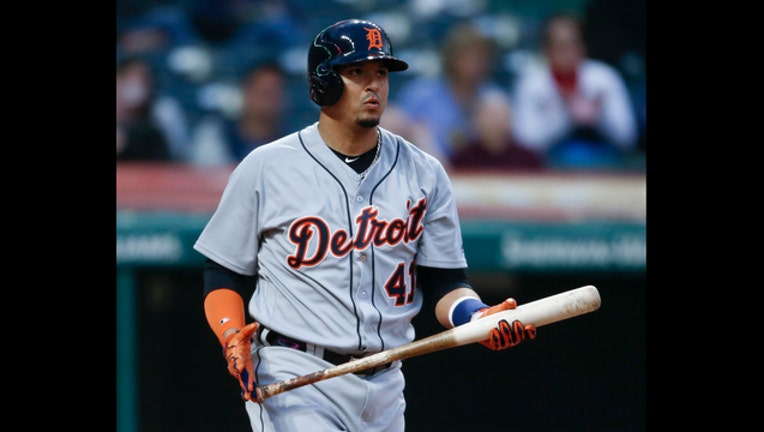 article
CLEVELAND (AP) - Francisco Lindor sparked Cleveland's slumbering offense with one big swing. Then he kept going.
Lindor hit his fourth career leadoff homer, drove in three runs and scored three times, and the Indians beat Detroit 9-3 on Thursday night for their 11th consecutive victory against the Tigers.
Jose Ramirez also homered for the Indians, who own the worst team batting average in the majors at .189. Jason Kipnis and Bradley Zimmer had three hits apiece.
Cleveland set season high for runs and hits with 15 while finishing off a four-game series sweep.
"I don't care how hard you work and how tough you are mentally, whenever you have results, it helps," said Lindor, who entered the night hitting .184 with one RBI. "This is huge. It's huge. It puts a smile on everyone's faces. I'm happy we finally gave some runs to the pitching staff."
Trevor Bauer (1-1) tossed seven innings of two-run ball in his first win over Detroit since May 5, 2016. The right-hander was handed a 6-0 lead in the second inning.
"We all know this offense is going to hit because there is way too much talent for it to struggle all season," Bauer said. "I joked the other night that we're going to have to find a way to win a game that we get no-hit in, but I think it's a testament to the team that it's even a possibility.
"It's a team game, so if you win 1-0 or 10-9, it doesn't matter, but it was nice pitching from ahead and having a comfortable lead."
Lindor began his night with a nine-pitch at-bat against Michael Fulmer (1-2), resulting in his drive into the bleachers in left field. He added a two-run double in the second.
Michael Brantley also had two hits for the Indians. Kipnis drove in two runs and Zimmer robbed Dixon Machado of an extra-base hit with a diving catch in center field.
"It all got started because Frankie had a terrific at-bat to start the game," Indians manager Terry Francona said. "That's a good way for us to start and a tough way for a pitcher to start, and we faced a really good pitcher tonight."
Leonys Martin posted his second consecutive three-hit game and scored twice for the Tigers, who have lost 17 of their last 22 games at Progressive Field. Nicholas Castellanos delivered a pair of RBI singles.
The Tigers committed three errors in the first four innings, compounding a poor outing by Fulmer. The right-hander was charged with a career-high nine runs, six earned, in three-plus innings.
"My command wasn't there and they were hitting everything," Fulmer said. "No matter where I threw it - mistakes, good pitches - they were all hitting the ball pretty hard."
Tigers right-hander Jordan Zimmermann was in uniform, one day after being struck on the right jaw by a Kipnis line drive. The 31-year-old said he does not have a headache and expects to make his next start Tuesday against Baltimore.
Detroit pitching coach Chris Bosio, who fell ill during the series opener, will be away from the team for several weeks with an undisclosed medical condition.
The first-pitch temperature was 74 degrees, more than doubling the 33-degree conditions that the teams played in Monday.
MAKING HISTORY
Tigers first baseman Miguel Cabrera singled in the seventh, tying Hall of Famer Jimmie Foxx for 78th place with 2,646 career hits. Next up for Cabrera, who went 4 of 23 on Detroit's seven-game road trip, is Ted Williams with 2,654.
TRAINER'S ROOM
Indians: LHP Ryan Merritt (left knee sprain) and 3B Gio Urshela (right hamstring strain), who have been on the disabled list since March 29, both played in an extended spring training game in Arizona.
UP NEXT
Tigers: RHP Mike Fiers (1-0, 0.00 ERA) takes on Yankees LHP Jordan Montgomery (0-0, 4.82 ERA) in the opener of a three-game series at Comerica Park.
Indians: RHP Mike Clevinger (1-0, 0.71 ERA), who has never started a game against Toronto, challenges Blue Jays RHP Marcus Stroman (0-1, 8.38 ERA).