Magic hand Pistons 20th loss in 21 games with 128-102 win
ORLANDO, Fla. - ORLANDO, Fla. (AP) — Paolo Banchero and Wendell Carter Jr. had 14 points and nine rebounds each before sitting out the fourth quarter Sunday night in the Orlando Magic's 128-102 rout of the Detroit Pistons.
Jalen Suggs led eight Orlando players in double figures with 18 points, and Cole Anthony added 17 points and six rebounds for the Magic, who shot 57.3% and won for the fifth time in six games.
Franz Wagner finished with 16 points and eight assists and a plus-minus of plus-33.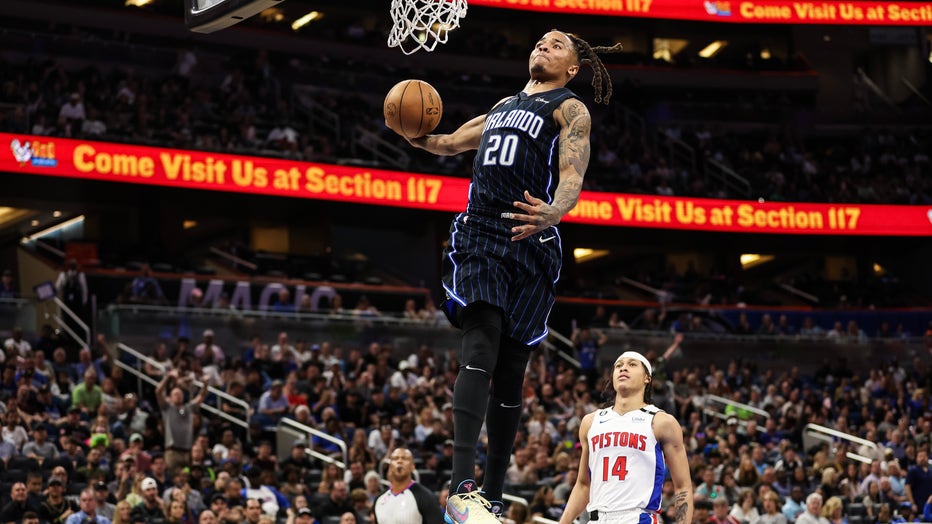 ORLANDO, FLORIDA - APRIL 02: Markelle Fultz #20 of the Orlando Magic dunks the ball during the second half of a game against the Detroit Pistons at the Amway Center on April 02, 2023 in Orlando, Florida. NOTE TO USER: User expressly acknowledges and
Killian Hayes scored 20 points and Eugene Omoruyi added 19 for the Pistons, who lost for the 20th time in 21 games. Jaden Ivey finished with 14 points and six assists.
Anthony and Suggs scored five points each on a 23-4 spurt that opened the second quarter and gave the Magic a 24-point lead. The Pistons, who had eight turnovers in the quarter, never threatened again and fell behind by as many as 30 points in the fourth quarter.
Suggs made 4 of 6 three pointers and finished the game with four steals and two technical fouls.
TIP-INS
Pistons: Ivey became the first rookie in franchise history to score in double figures in 65 games. ... The Pistons' only lead of the game was 4-3. ... Two of Detroit's 16 wins have come against the Magic.
Magic: C Goga Bitadze picked up a technical foul to go with his sixth personal with 6:50 remaining. ... Anthony had his 11th straight double-figure scoring game and 11th straight game of a five or more rebounds. ... The Magic are 29-24 since their 5-20 start.
UP NEXT
Pistons: Host Miami on Tuesday night.
Magic: Host Cleveland on Tuesday night. ___