Mahtook helps Tigers end 8-game skid, beat Padres 7-5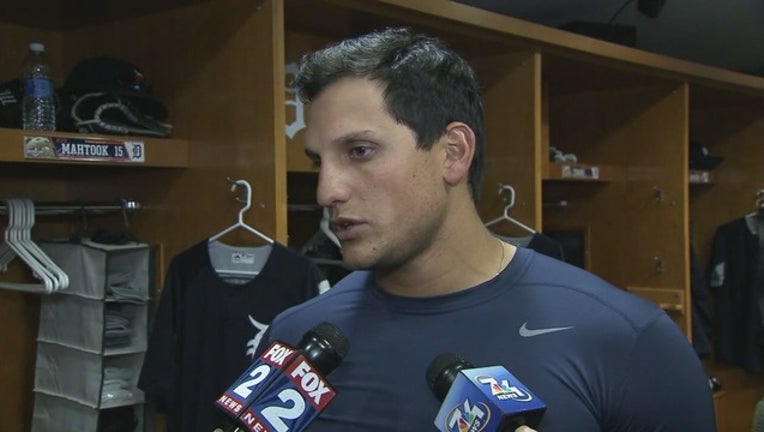 article
SAN DIEGO (AP) - Brad Ausmus changed his mind about pinch-hitting for Mikie Mahtook, and the young center fielder came through to help the Detroit Tigers end their long losing streak.
Mahtook drove in three runs including a tiebreaking two-run single in the ninth inning and the Tigers snapped an eight-game skid with a 7-5 win over the San Diego Padres on Sunday.
Amid rumors that Ausmus may be fired had the Tigers extended their streak, Ausmus stuck with Mahtook against Padres closer Brandon Maurer (0-4).
"We actually had some discussions about pinch-hitting for him," Ausmus said. "But, he had been swinging the bat pretty well and righties seem to have a little more luck against Mauer at times. So we just kind of stuck with him and he did a nice job of taking the fastball the other way."
After Detroit twice erased deficits earlier in the game, Mahtook sent an opposite-field single into right that scored Ian Kinsler and Justin Upton and gave Detroit its first lead of the game.
"Any time you have a losing streak like that, it's nice to get that win and get the monkey off your back," Mahtook said. "Everybody in this clubhouse and everybody in the dugout, no matter the score and no matter the situation, everybody has been positive. We always expected that we were going to come through."
Bruce Rondon (1-1) pitched a scoreless eighth to earn the victory. Justin Wilson retired the side in the ninth to collect his sixth save in seven chances.
"Wilson looked good and I thought Bruce Rondon looked really good as well and Alex Wilson bounced back," Ausmus said. "There were some pluses from the bullpen as opposed to what it has been like the last few days."
San Diego jumped out to an early lead against Jordan Zimmerman with home runs by Wil Myers and Erick Aybar that put the Padres on top 3-0 in the second.
"Just looking for a pitch out over the plate," Myers said. "I was hoping to put a good swing on it. Just one of those that felt good. I haven't been put a lot of barrels on balls lately, so it feels good to start the day off like that."
Detroit tied it with three in the fourth, on a run-scoring triple by Mahtook, an RBI double by James McCann, and a single by Jose Iglesias.
Clayton Richard's run-scoring sacrifice bunt and Jose Pirela's RBI double put the Padres back ahead 5-3 in the bottom of the inning.
However, Nick Castellanos tied it 5-5 with a two-run homer in the sixth.
"It felt really good, especially that it didn't land in somebody's glove," Castellanos said. "Richard had a tough arm angle, so really I was just trying to stay inside fastballs. I took a really good swing on the pitch before that, and he kind of threw it in the same area."
Zimmerman turned in his shortest outing of the year, allowing five runs on six hits over four innings. He walked three and struck out five.
Richard yielded five runs on nine hits in five and one-third innings. He struck out three and walked two.
"We knew going into the game it wasn't the greatest matchups for him," Padres manager Andy Green said. "I thought he competed. I think the flared triple to the right-center gap is a ball that gets caught a lot of times and those first three runs that play don't score if we make that play. Not saying those are on Matt Szczur, made a great effort from where he was but the ball hung up a long time."
QUOTABLE
"I can't speak for everybody else, but I don't pay attention to any of it. The only thing I worry about is the guys in the clubhouse and the game. That's it." - Castellanos on trade speculation and rumors of Ausmus' job in jeopardy.
TRAINER'S ROOM
Tigers: DH Victor Martinez is expected to return to the lineup Wednesday. Martinez had been sidelined since June 15 with an irregular heartbeat.
Padres: IF/OF Allen Cordoba was held out of Sunday's lineup after being hit in the hand on a pitch on Saturday. X-Rays were negative and Cordoba is not expected to miss an extended amount of time due to the injury.
UP NEXT
Tigers: RHP Justin Verlander (4-4, 4.52) will take the mound on Tuesday when Detroit returns home to face Matt Strahm and Kansas City. Verlander carried a perfect game into the sixth in his last start but ultimately did not factor into the decision.
Padres: RHP Jhoulys Chacin (6-6, 4.95) starts on Tuesday for San Diego against Atlanta. Chacin is 4-1 with a 1.72 ERA at home this season in seven starts.