Michigan's Wild Big Ten Ride Continues With Win Over Purdue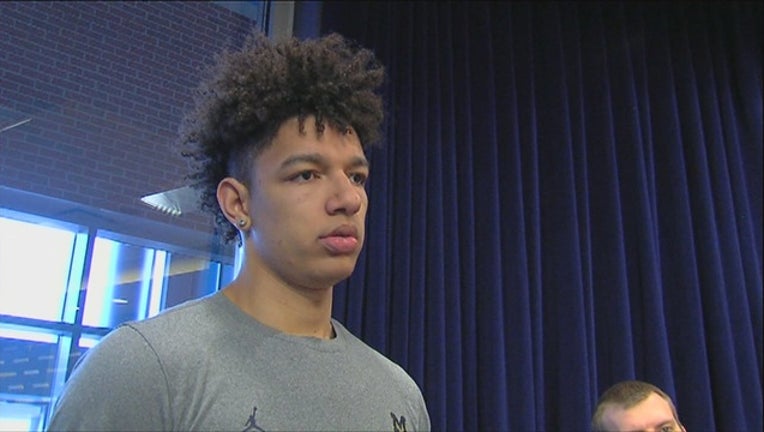 article
WASHINGTON (AP) - Michigan's basketball players woke up Friday in the same city they'd be playing in that afternoon. What a refreshing change during what's been quite a week.
They ate breakfast at a regular hour. Watched game film as usual, too. Heck, the Wolverines even got to wear their proper blue road jerseys - with their last names printed on the back and everything - to face 13th-ranked Purdue in the Big Ten quarterfinals.
Two days after its airplane's scary abandoned takeoff, Michigan moved into the league tournament semifinals with a 74-70 overtime upset of Purdue behind D.J. Wilson's 26 points, eight rebounds and three blocks.
"It's not going away just yet," Michigan coach John Beilein said about his team's rattling trip. "Those 40 minutes out there" - well, 45 when you include OT, Coach - "I wasn't thinking about that at all. And the kids weren't, either."
It was an engaging, back-and-forth affair. The teams combined for 14 ties and 17 lead changes in regulation alone, and they headed to overtime tied at 66 after Zak Irvin pulled Michigan even on a layup with 4.2 seconds left, before Wilson blocked a 3-pointer at the buzzer.
The eighth-seeded Wolverines (22-11) got 13 points from Irvin, including both of their overtime field goals, against the No. 1 seed Boilermakers (25-7) and held Purdue to 1-of-8 shooting in the extra period.
Michigan next faces No. 4 seed Minnesota, which eliminated Michigan State 63-58.
"Sometimes when things happen, whether it's an injury or an incident like this, sometimes it can kind of refresh. You focus a little bit more," Purdue coach Matt Painter said about what Michigan's been through. "I know that doesn't sound like it makes a lot of sense."
More than 100 members of Michigan's traveling party - players, coaches, cheerleaders, others - were evacuated from their plane after it failed to take flight and slid through a fence Wednesday.
"Now I just think about it: If that airplane had ever just lifted, there was no way ... it was going to have power to get up in the air. What could have happened? So that keeps going through my mind," Beilein said.
"I don't think they want to lose sight ... as they go forward in their lives," he said about his players, "of how different that could have turned out."
They made it to Washington on the Detroit Pistons' jet on Thursday morning, arriving at the arena a couple of hours before facing Illinois.
Michigan won that one by 20 while wearing yellow practice jerseys because its luggage was stuck on the abandoned airplane back home. The bags were retrieved from the plane Thursday evening and shipped to the team later that night, spokesman Kurt Svoboda said.
After the opening win against Illinois, Wilson said, "things kind of just went back to normal ... we got back on schedule."
His play was key against Purdue, in part by heeding point guard Derrick Walton's pleas.
"He just kept telling me to shoot it, shoot it, shoot it," Wilson said, munching on pretzels in the locker room.
And on defense, the 6-foot-10 Wilson helped limit the production in the paint of Purdue's big men, 7-2 Isaac Haas and 6-9 Caleb Swanigan, the second-leading scorer in the Big Ten, who fouled out in OT with 13 points and 13 rebounds.
"We don't take any of this," Wilson said, "really, for granted."
BIG PICTURE
Michigan: Can advance to the Big Ten final with a third win in three days.
Purdue: Will find out Sunday where it'll be sent for the NCAAs after failing boost its seeding resume. "It's terrible to earn the right to call yourself the best team in the league," guard Vince Edwards said, "and to come here and leave on the first night. It's horrible."
UP NEXT
Michigan: Plays Minnesota on Saturday. The Gophers beat the visiting Wolverines 83-78 in OT on Feb. 19.