NFL will consider reviewing roughing-the-passer, personal foul penalties
The NFL's competition committee will consider making roughing-the-passer penalties and personal-foul penalties subject to video review.
The two potential rule changes were among nine the league announced Monday in its 2023 playing rules, bylaw and resolution proposals submitted by clubs.
The Los Angeles Rams proposed the change that would allow teams to challenge roughing-the-passer calls. Several such calls sparked outrage last season, leaving players and coaches questioning what constitutes a legal hit on a quarterback.
The Detroit Lions proposed giving teams an opportunity to challenge personal foul calls.
The competition committee will consider the rule changes later this month when NFL owners gather in Arizona for their annual meeting.
Other proposals include an option to try to convert a fourth-and-20 from the kicking team's 20-yard line instead of attempting an onside kick. The Philadelphia Eagles submitted that proposal. The Eagles are also asking the competition committee to consider allowing players to wear No. 0.
The Lions also proposed giving clubs more opportunities for a third challenge and expanding the replay official's jurisdiction to allow for consultation regarding penalty assessment.
The Houston Texans proposed expanding the replay official's jurisdiction to allow for review on failed fourth down attempts.
The New York Jets proposed an amendment to expand the crackback prohibition to players who go in motion and go beyond the center to block ("split-flow block") a defender below the waist.
The Los Angeles Chargers proposed adjustment of the play clock following an instant replay reversal consistent with other timing rules.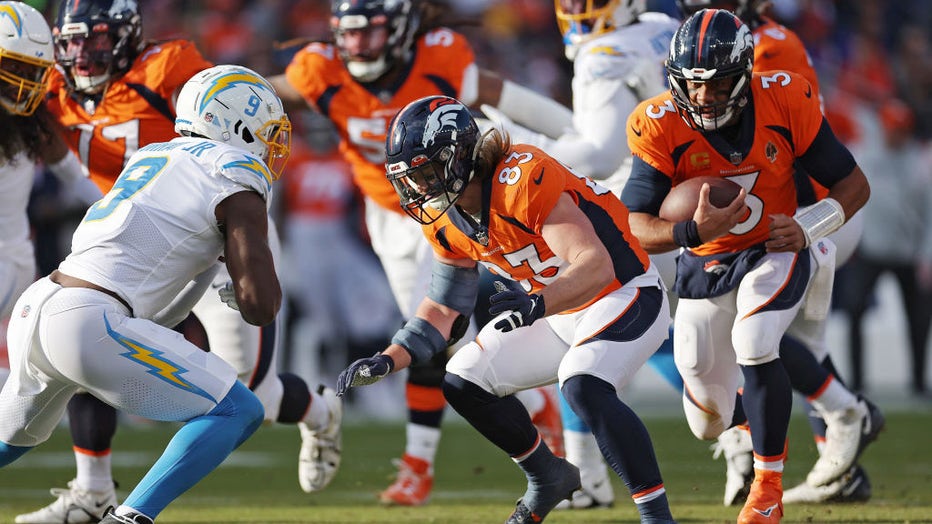 FILE - Russell Wilson #3 of the Denver Broncos runs the ball during the first quarter against the Los Angeles Chargers at Empower Field At Mile High on Jan. 8, 2023, in Denver, Colorado. (Photo by Matthew Stockman/Getty Images)
Two bylaws proposals involve emergency quarterbacks and playoff seeds.
The Lions proposed allowing teams to designate an emergency third quarterback from their inactive list or practice squad who would be eligible to enter a game if the first two quarterbacks on the active list are ruled out.
The Chargers proposed seeding wild-card teams ahead of division champions if the division champ has a losing record (under .500 winning percentage) and the wild-card team has at least four more wins.
Among the resolution proposals is one submitted by 25 teams that would establish one preseason roster reduction date instead of the current three.
RELATED: Player treatment survey ranks NFL teams: Here's who tops the list