No. 2 Michigan State wins 13th in row, beats Wisconsin 63-60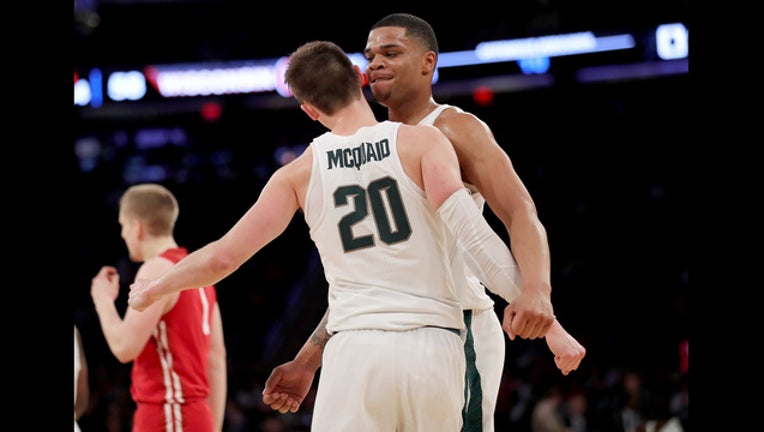 article
NEW YORK (AP) - The Big Ten Tournament didn't get off to a great start for Tom Izzo and No. 2 Michigan State.
The ride to New York was delayed Thursday because the plane had to be de-iced. The top-seeded Spartans followed suit with a so-so start against Wisconsin on Friday, and they struggled most of the game.
The positive: Michigan State found a way to win its 13th straight game and advance to the conference semifinals.
Cassius Winston hit a go-ahead jumper with 7:17 to play and Michigan State beat ninth-seeded Wisconsin 63-60 at Madison Square Garden.
"I was disappointed in my team, maybe in myself, too," Izzo said. "I just didn't think we played well. But like some of my equipment men and guys like that said to me: 'When has it been any different with Wisconsin?'"
Miles Bridges led the Spartans (29-3) with 20 points and Winston finished with 17 in advancing to the semifinals Saturday against the winner between No. 15 Michigan and Nebraska.
Michigan State also got big plays down the stretch from Matt McQuaid and conference freshman of the year Jaren Jackson Jr. in beating Wisconsin (15-18) for the third time this season. The last two have been tough.
"I wouldn't say a comfort, but we're doing better in those situations," Winston said of surviving in close games. "We're not panicking. We know what type of plays to make to win those type of games. I still think we need to do a better job of putting ourselves in positions to try and win those games when we can kind of spread that lead out and get a comfortable lead."
The Badgers, who had won five of their last seven games, had a chance to tie in the waning seconds. But the Spartans played tough defense and Brad Davison's long, contested 3-pointer from beyond the top of the key never hit the rim.
"This group kept persevering and battling and getting better," Wisconsin coach Greg Gard said. "And unfortunately we didn't have enough today nor enough earlier in the year to be able to keep playing in the NCAA Tournament, which I know everybody in that locker room that was the goal was to try to win this thing to get there."
Wisconsin also hurt its chances with missed free throws. Khalil Iverson missed a chance to finish off a three-point play with under three minutes to go and his team down 60-58. He missed a 1-and-1 seconds later. Ethan Happ, who had 22 points, also missed a 1-and-1 with 1:51 to go and the Badgers still down two points.
McQuaid pushed the lead to 63-58 with a 3-pointer with 1:28 to go. A layup by Davison got the gap to two points with 32 seconds left, and Wisconsin had a chance to tie when Bridges missed the front end of a 1-and-1 with 27 seconds to play.
Winston's jumper gave the Spartans a 53-51 lead. Jackson, who was in foul trouble all game, converted a three-point play to push the lead to 56-51. McQuaid's layup made it a seven-point game with five minutes to go.
Happ who was 10 of 15 from the field in dominating under the basket, made a layup and three-point play to cut it 58-56.
A rebound follow by Jackson and Iverson's basket inside and missed free throw set up the tense final minutes.
The Spartans struggled to find a rhythm on offense in the first half. They rarely got into transition and didn't get going until scoring the final eight points to lead 32-28. Bridges started the run with two free throws, added a 3-pointer in transition and then saw Winston close the half with another 3-pointer just before the buzzer.
Wisconsin was called for 10 fouls in the half and Happ spent the final 7:46 on the bench with nine points after picking up his second.
UP NEXT
Wisconsin: Next season.
Michigan State: Faces winner of Michigan-Nebraska game in semifinals on Saturday.