Nyquist, Red Wings Top Coyotes 5-4 In Shootout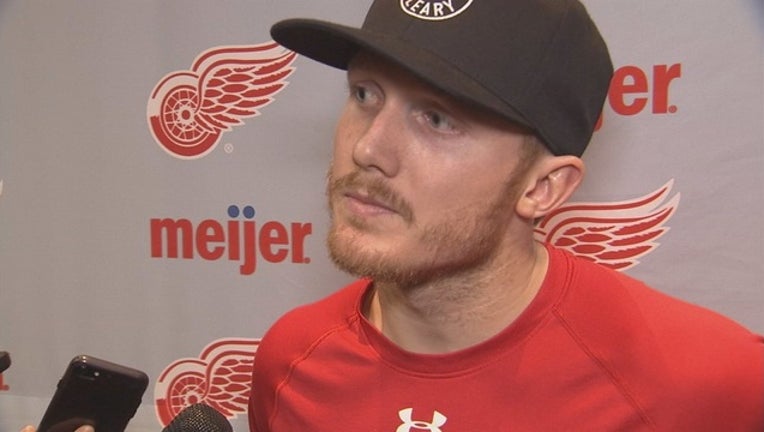 article
GLENDALE, Ariz. (AP) - The Detroit Red Wings' streak of 25 straight postseason appearances is in serious jeopardy. If only the Atlantic Division's last-place team could have more games like Thursday night against Arizona.
Gustav Nyquist's shootout goal gave the struggling Red Wings a 5-4 victory over the Coyotes.
Petr Mrazek stopped all three Arizona shots in the shootout and finished with 22 saves, and the Red Wings won for just the second time in seven games. Henrik Zetterberg, Mike Green and Tomas Tatar each had a goal and an assist for Detroit. Andreas Athansiou added two assists.
"We've got guys that can score in the shootout and our goalies have done a really good job stopping them," Red Wings coach Jeff Blashill said.
Mrazek stopped Coyotes shootout ace Radim Vrbata, who has 45 career goals in the tiebreaker, the most in NHL history. The Red Wings improved to 8-0 in shootouts this season.
Alex Goligoski had a goal and an assist, and Vrbata, Lawson Crouse and Jakob Chychrun also scored for the Coyotes, who snapped a three-game win streak. Josh Jooris had two assists and Mike Smith had 29 saves.
The Coyotes have earned points in six of their last seven games.
"We want our young guys to push right until the end," Coyotes coach Dave Tippett said. "We want our veteran guys to push right until the end. If we do that, it should lead to some points."
The teams scored twice each in a back-and-forth third period. Zetterberg broke a 3-3 tie with 6:05 left to play, putting a left-handed shot past Smith. But Chychrun tied it for the Coyotes with 2 1/2 minutes to go.
Zetterberg tied Norm Ullman for sixth place all-time in goals in Red Wings history with 324.
"It was nice, first of all, to get the two points but also the way we did it," Zetterberg said. "We came out pretty solid again, had a good start, then they come back and scored two ... in the end it felt like we deserved two points."
Green took a feed from Zetterberg, split a pair of defenders and backhanded a shot past Smith at 3:52 of the third, giving Detroit a 3-2 lead. The Coyotes tied it at 7:37, with Crouse finishing a 2-on-1 short-handed breakaway.
Detroit scored on two of its seven power plays, their best conversion rate in a game since going 2 for 4 at Vancouver on Feb. 28. The Red Wings were 0 for 8 on the power play over their previous five road games.
"A real positive is the two goals on the power play," Blashill said. "There were other moments where our power play could have scored for sure. Zetterberg's unit I thought had some real good chances there in the third period."
The second period featured three goals, two for the Coyotes to take a brief 2-1 lead and one for the Red Wings that tied it at 4:45 of the period.
Vrbata tied it 1-1 at the 1:53 mark when his wrist shot beat Mrazek for his 17th of the season.
Arizona took its first lead on Goligoski's shot that hit Green in the skate and caromed into the net just over two minutes later.
The Red Wings drew even after the Coyotes' Jordan Martinook was called for slashing, and the resulting power play helped Tatar pick up his team-high 18th of the season at 4:45 of the second.
The Red Wings converted one of two first-period power plays. Dylan Larkin's goal came at 8:11 when a shot by Athansiou was stopped by Smith. The rebound came to Riley Sheahan, who sent the puck to the other side of the net for Larkin for a shot Smith couldn't gather.
"We got some puck luck tonight," Larkin said.
Coyotes captain Shane Doan, who assisted on Goligoski's goal, did not play in the third period due to a lower-body injury he suffered during the game. He and defenseman Luke Schenn, who crashed into the boards in the third period, are day to day, Tippett said.
NOTES: C Luke Glendening (healthy) and D Ryan Sproul (knee injury) were scratched for Detroit. ... F Anthony Duclair, D Kevin Connauton and C Alexander Burmistrov were scratched for Arizona. Duclair was a healthy scratch. ... The game was cross-branded as Diamondbacks Night, with members of the baseball club in attendance. CF A.J. Pollock dropped the ceremonial first puck, and 2001 World Series hero Luis Gonzalez and current OF David Peralta were among those at the game.
UP NEXT
Red Wings: Host Colorado on Saturday.
Coyotes: Host St. Louis on Saturday, the first of three games against the Blues before the season ends.