Paxton tosses complete game in 7-2 win over Tigers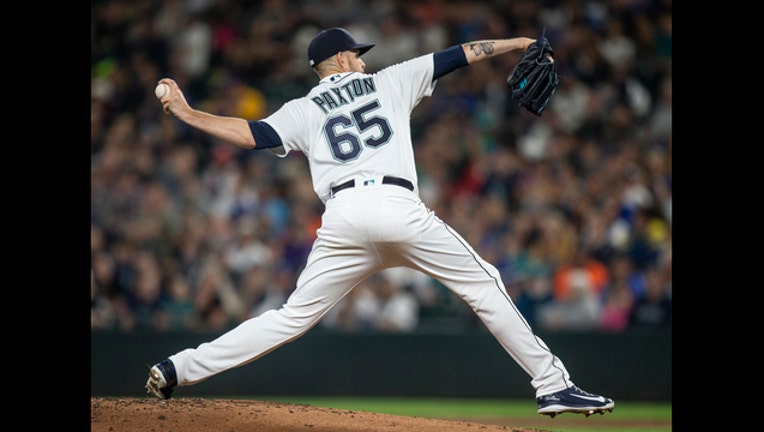 article
SEATTLE (AP) - In his first start back in Seattle since throwing the sixth no-hitter in Mariners franchise history, James Paxton tossed another gem.
The left-hander pitched a three-hitter in his second complete game in three starts, leading the Mariners to a 7-2 victory over the Detroit Tigers on Saturday night.
Paxton (3-1) struck out eight and walked one in his first start at Safeco Field since his no-no two weeks ago against Toronto - the only other game in which he has gone the distance in six major league seasons.
"We just jumped on his back tonight," Mariners manager Scott Servais said. "It's been fun watching it kind of evolve here over the last four or five outings and him taking a next step, establishing himself as one of the best starters in this league. There's no question about it."
This was Paxton's fifth straight start with at least six innings pitched and three or fewer runs allowed. He retired the final 15 batters he faced.
"I find as I go on, I kind of find my rhythm more and more," Paxton said, "so I kind of get better and better as the game goes on."
Jean Segura hit his third home run of the season and drove in three, while Dee Gordon had two RBIs to carry Seattle offensively. But Paxton handled most of the heavy lifting with just four Tigers reaching base all night. Victor Martinez hit a solo home run off Paxton in the second inning and Grayson Greiner plated John Hicks with a sacrifice fly in the fifth.
"You want to give him every opportunity to get (to the finish line) and I decided to do that tonight," Servais said. "When I shook his hand after the game, he said, 'You let me go!' I said, 'You earned it.'"
Paxton tossed 117 pitches with 83 strikes in baffling the Tigers.
"(Paxton) was attacking," Tigers manager Ron Gardenhire said. "He got a lead and a good pitcher like him knew exactly what to do with it. He was popping it in there pretty good. The ball was really jumping."
Segura's homer in the first off Detroit starter Mike Fiers (4-3) gave the Mariners a quick 1-0 lead. He also tripled in the second inning to drive in another run, and added a sacrifice fly in the sixth that capped a four-run inning that gave Seattle a 7-2 advantage.
Martinez's solo homer off Paxton in the second inning tied the game at 1. Ben Gamel led off Seattle's half of the second with a solo shot to right to give the Mariners the lead again.
Mike Zunino scored on Segura's triple to make it 3-1.
Greiner's sacrifice fly cut the deficit to 3-2 in the fifth before the Mariners seized control in the sixth.
A leadoff walk to Kyle Seager in the sixth ended Fiers' night. He allowed four runs and six hits over five innings with a walk and two strikeouts.
"I felt like the misses weren't good misses," Fiers said. "I was getting two strikes on them, but really couldn't put them away."
Zunino singled to drive in Seager, and Gordon doubled on a ball that deflected off pitcher Artie Lewicki's glove into right field to drive in two more to give Seattle a 6-2 advantage.
HOLY HANIGER!
Mariners outfielder Mitch Haniger tumbled over the right-field wall and into the first row of seats as he hauled in a pop-up from Jose Iglesias. Niko Goodrum advanced from second to third on the play as Haniger pulled himself up out of the stands, but Paxton struck out Dixon Machado to end the inning and leave the tying run stranded.
TRAINER'S ROOM
Mariners: RHP Hisashi Iwakuma had a long toss session Friday and is expected to throw in the bullpen Saturday. Iwakuma shut down his throwing program on April 29 after a simulated game outing in Arizona was stopped after just eight pitches. Iwakuma remains on the disabled list in the minor leagues as he attempts to return from shoulder surgery this offseason.
UP NEXT
Tigers: LHP Francisco Liriano (3-1) will make his ninth start of the season to wrap up the series in Seattle. Liriano has failed to pitch out of the fifth inning in either of his last two starts, allowing a season-high five earned runs last time out against Cleveland.
Mariners: LHP Wade LeBlanc (0-0) will make his fourth start after moving into the rotation from the bullpen. He's allowed just one earned run in his three starts this season. He tossed six scoreless innings with just three hits allowed against Minnesota in his last start.