Pistons lose eighth in a row, fall 121-104 to Cavs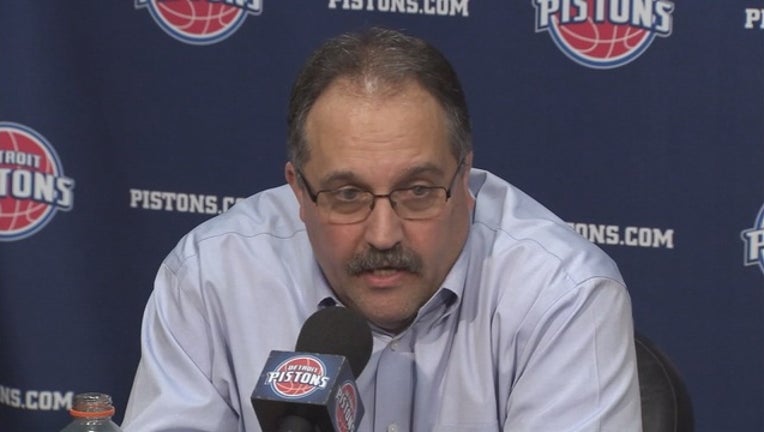 article
CLEVELAND (AP) - LeBron James had 25 points, 14 assists and narrowly missed his second straight triple-double, and the Cleveland Cavaliers beat Detroit 121-104 on Sunday night, sending the Pistons to their eighth straight loss.
Cleveland has won consecutive games for the first time since a five-game winning streak Dec. 9-17.
James was 8 of 15 from the field, 8 of 9 from the foul line and had eight rebounds. Kyle Korver's 3-pointer midway through the fourth quarter broke a 95-all tie. James added two free throws and a three-point play, and J.R. Smith hit a pair of 3-pointers as Cleveland pulled away.
Kevin Love had 20 points and 11 rebounds and Smith, with his second strong game in a row, had 15 points.
Tobias Harris and Anthony Tolliver each scored 20 points for the Pistons, who continued to struggle despite several changes in the starting lineup by coach Stan Van Gundy. Detroit's losing streak is the longest current stretch in the league.
The Cavaliers beat Indiana on Friday following a tension-filled week that included a heated team meeting, starting lineup change and persistent trade rumors.
Cleveland led by 10 points in the first quarter, but its inconsistent play surfaced again. Tolliver, added to Detroit's starting lineup, hit five 3-pointers in the half. The Pistons led 61-58 at halftime.
Isaiah Thomas, who had 14 points, sparked a 10-0 run late in the third quarter that erased an 85-80 deficit with a free throw and two drives to the basket. The Pistons regained the lead but faded down the stretch after playing Saturday against Oklahoma City.
Cavaliers coach Tyronn Lue expects Dwyane Wade will return for Tuesday's game in Detroit. The veteran guard was excused from the team following the death of his longtime agent Henry Thomas. He also missed Friday's game.
Pistons guard Avery Bradley was unavailable because of a strained right adductor. He previously missed seven games and aggravated the injury Saturday.
Andre Drummond had 17 points and 11 rebounds for Detroit.
TIP-INS
Pistons: Harris went to the bench with his second foul at the four-minute mark of the first quarter and picked up his third midway through the second. .... Tolliver replaced Stanley Johnson at small forward. ... Reggie Bullock started in place of Bradley, while Ish Smith replaced Langston Galloway at point guard.
Cavaliers: Lue said no decision has been made if Thomas will play in both ends of the team's back-to-back set against Detroit on Tuesday and Miami on Wednesday. Thomas has yet to play on consecutive nights since returning from his hip injury. ... Jeff Green's cross-court pass in the fourth pass went directly to Van Gundy in front of Detroit's bench.
UP NEXT
The Pistons and Cavaliers complete their back-to-back set Tuesday at Little Caesars Arena.