Pistons Lose To Bucks 108-105 In Overtime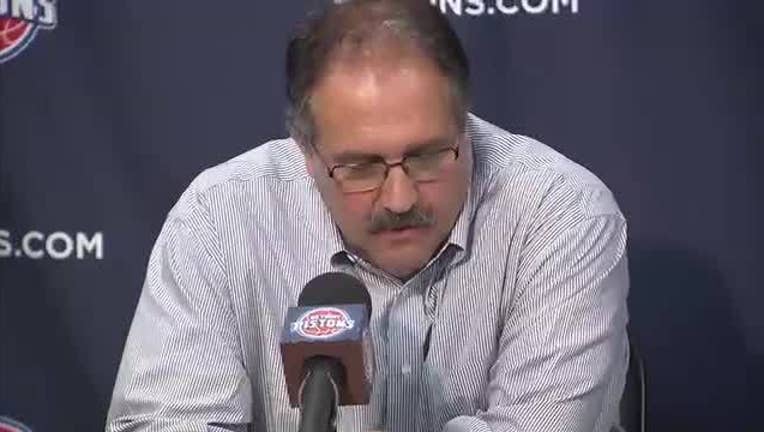 article
MILWAUKEE (AP) - Thon Maker remembered a tip from his coaches when the 7-foot-1 rookie went up for a missed shot: A tap back to an open teammate to save the possession can prove just as effective as securing the offensive rebound.
Khris Middleton hit a 3-pointer with 40.7 seconds left in overtime after Maker tipped an initial miss from Middleton right back to his teammate, and the Milwaukee Bucks beat the Detroit Pistons 108-105 on Friday night.
Middleton hit the crucial 3 from nearly the exact same spot from behind the arc where he missed just seconds earlier before Maker gave him a second chance.
"That goes back to a few games ago, when our (coaches) were telling me to do that," Maker said. "You've just got to tip it back, you can't always grab it. Just playing to win."
Middleton had 25 points and 10 rebounds, while Maker scored a career-high 23 points.
It was a thrilling end to the month for the Bucks, who moved into fifth place in the Eastern Conference after going 14-4 in March. Milwaukee had its first 14-win month since a 16-2 record in February 1971.
The Bucks rallied from a 91-81 deficit with 5 minutes left in regulation.
"I think it just shows where the team is at mentally and physically," coach Jason Kidd said. "Being down and maybe not playing our best there, (we) still believed we could find a way to win."
Tobias Harris scored 23 points to lead the Pistons in a game of wild of swings. Detroit trailed by 18 in the first quarter, then led by 10 in the fourth quarter before the Bucks finished with a flourish.
"I thought we played hard and played well. We ran out of gas a little bit at the end," coach Stan Van Gundy said.
TIP INS
Pistons: Kentavious Caldwell-Pope was arrested on suspicion of drunken driving after police say he was spotted speeding in suburban Detroit early Wednesday morning. He was arrested after a field sobriety test and taken to the police station, where a breathalyzer test showed a blood-alcohol level of 0.08 percent. Caldwell-Pope was cited for operating while intoxicated and released.
"I'm just trying to move forward from it. Trying not to stress about it; trying to think about basketball," he said after the game. He finished with 17 points.
Added Van Gundy: "He's a guy we really believe in not only as a player, but as a high-character guy. ... We're aware of the situation and we'll let things run its course."
Bucks: Rookie G Malcolm Brogdon missed the game with a sore back. ... F Michael Beasley (left knee) returned after missing 17 games with a hyperextended left knee, scoring seven points in eight minutes.
GO-GO GIANNIS
All-Star Giannis Antetokounmpo led the Bucks' charge from a 91-81 deficit, scoring 10 points in the final 5 minutes of regulation. Maker's putback with 51 seconds left completed the rally, tying the score at 95.
The Bucks heeded the cries of "Defense!" from their fans in overtime at the Bradley Center. Caldwell-Pope hit a 3 with 1:22 left to tie the game at 102, but Detroit didn't hit another field goal until Ish Smith's 3 with 0.1 seconds left.
"It's a great lesson learned for us (showing) that the game isn't over because you start well," Kidd said.
Antetokounmpo finished with 28 points, 14 rebounds and nine assists.
PISTONS COMEBACK
Milwaukee looked at first like it would cruise to a win, hitting 7 of its first 9 attempts from 3-point range to build leads of 22-4 and 35-22 in the first quarter, before the Pistons started chipping away.
"I don't think we could have played any harder," Van Gundy said. "Some of their key guys really played well but the difference really came down to Thon Maker. He was a difference in the game."
UP NEXT
Pistons: Host the Toronto Raptors on April 5, when Detroit will try to even the season series at two games apiece.
Bucks: Host the Dallas Mavericks on Sunday. Kidd and guard Jason Terry played together in Dallas when the Mavericks won the NBA title in 2011.