Red Wings Clip Canadiens 2-1 In OT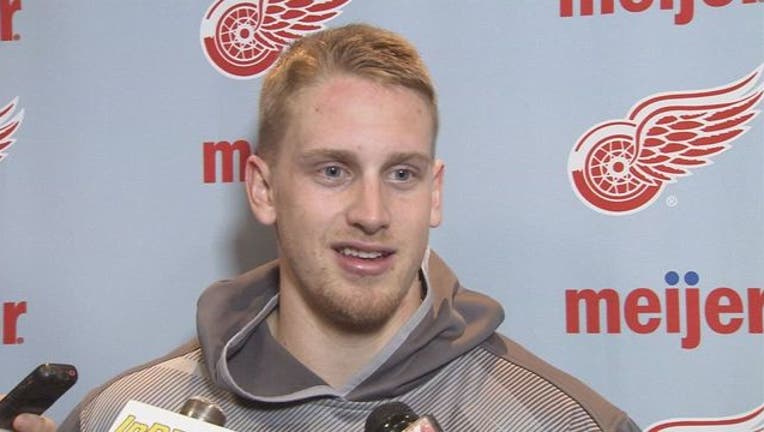 article
MONTREAL (AP) - Anthony Mantha ended his scoring slump at the right time for the Red Wings.
Mantha scored at 4:10 of overtime to lift Detroit to a 2-1 victory over the Montreal Canadiens on Tuesday night.
Mantha scored his 15th of the season on a wrist shot from close range to give the Red Wings their third win in four games.
It was his first goal since March 4 and only his second since Feb. 12. He was a healthy scratch for two games two weeks ago.
"It feels really good," said the Montreal-area native. "The last few games were a little harder, but I had to battle through it.
"I did a good job of moving my feet and putting shots on net. It's the little details that I was doing earlier in the season."
Justin Abdelkader scored in the first period for Detroit while Artturi Lehkonen tied it for Montreal with 2:29 left in the third.
"In the overtime I had two shots on net, both on the glove side, and the goalie got me twice so when I came into the slot I wanted to try it again," Mantha said. "I guess third time was a charm."
Canadiens backup goalie Al Montoya was particularly sharp while making a skate save on Andreas Athanasiou early in overtime.
"I thought Monty was awesome tonight," Montreal coach Claude Julien said. "He kept us in the game and gave us a chance to earn that point.
"He definitely deserves better. We should have scored more goals to help him out. He certainly deserved a win the way he played."
The Red Wings led 1-0 for about 56 minutes until Lehkonen tied the game at 17:31 of the third period.
Collecting the puck in his zone, the Finnish rookie skated in and, using Niklas Kronwall as a screen, fired a wrist shot from the slot inside a post for his 13th of the season.
The Red Wings, coming off a 2-1 loss to Buffalo on Monday night, had Jimmy Howard in goal for the fourth time since his March 10 return from a nearly three-month injury layoff.
All the scoring in the opening period happened in the first 53 seconds.
Montreal defenseman Nathan Beaulieu was sent off for interference 39 seconds in and Detroit's power play, one of the league's worst, needed only 14 seconds to score as Abdelkader took the rebound of Kronwall's point shot and lifted it over Montoya.
The Canadiens worked hard the rest of the way, but couldn't get through a tight Detroit defense.
"We just couldn't penetrate inside the dots," Julien said. "Our shots were from the outside.
"They were doing a good job of clearing the rebounds and keeping us on the outside, so it was tough. Their goaltender played well, but we didn't make it as hard on him as we should have or could have. That's on us."
The Canadiens lost for the first time in seven games that went into overtime or a shootout since Julien took over from Michel Therrien as coach on Feb. 14.
NOTES: Montoya got the start because Carey Price played back-to-back games over the weekend against Ottawa. ... Steve Ott returned to the Montreal lineup against his former team, replacing rookie Michael McCarron.
UP NEXT
Red Wings: Host Tampa Bay on Friday night.
Canadiens: Host Hurricanes on Thursday night.