Red Wings' Datsyuk Plans to Retire From NHL After Playoffs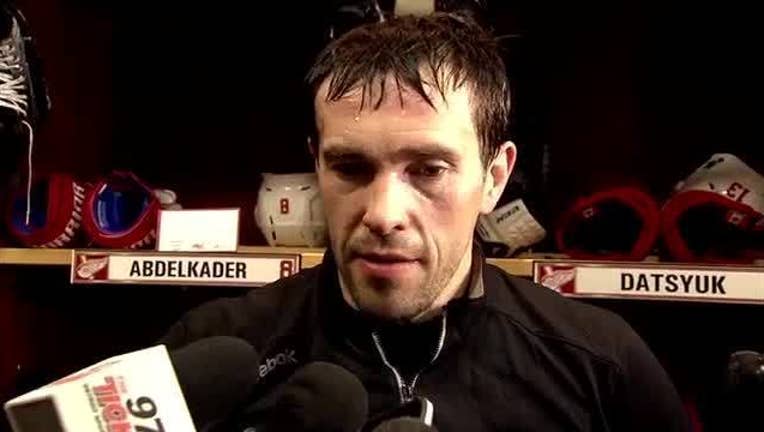 article
DETROIT (AP) - Detroit Red Wings center Pavel Datsyuk is expected to retire from the NHL after the playoffs.
Dan Milstein, his agent, confirmed Datsyuk's decision.
Datsyuk discussed his plans for the first time in an interview with the Detroit Free Press published Sunday.
"I'm thinking I go home after this season," he told the newspaper. "I may not be done with hockey, but — it is hard to say — I think I am done playing in NHL."
Datsyuk wants to return to Russia to reunite with his teenage daughter and to play in the Kontinental Hockey League for at least one season.
Milstein said Datsyuk's plans will not be final, though, until after the postseason when he meets with Red Wings general manager Ken Holland along with owners Mike and Marian Ilitch.
"It's not over until it's over, but it is Pavel's desire to go back to Russia," Milstein said.
Holland said in a text message that he'd have no comment until after the season.
The 37-year-old Datsyuk has one season left on his three-year, $22.5 million contract.
He will count $7.5 million against Detroit's salary cap next season even if he leaves, a big hit for a team that barely earned a spot in the playoffs.
"I feel very bad about it," Datsyuk told the paper.
Milstein said Datsyuk plans to express his appreciation to his fans in the Detroit area by hosting a hockey camp for kids in late June as he has for the past 10 years in Russia.
Datsyuk helped the Red Wings extend their postseason streak to 25 this season, when they finished third in the Atlantic Division. They will face the Tampa Bay Lightning in the first round of the playoffs.
Datsyuk had 16 goals and 33 assists this season, and his 49 points were one shy of Henrik Zetterberg's team-leading total. In the regular season, he has 314 goals and 918 points in his career. In 152 playoff games, he has 113 points.
Detroit drafted Datsyuk in the sixth round, 171st overall, in 1998. He made his NHL debut during the 2001-02 season and showed right away he was a steal.
He helped the Red Wings win the Stanley Cup in 2002 as a rookie and was one of the franchise's stars when it won the Cup again in 2008. As one of the game's all-time great defensive forwards, Datsyuk won the Selke Trophy three straight times — one fewer than Bob Gainey's record total — from 2008-10.
Datsyuk is known as the Magic Man for his ability to dangle the puck on his stick, and to take the puck away from opponents, with breathtaking skills he learned as a kid.
"In Russia, we had tough times. Only one puck," Datsyuk has said. "I always wanted the puck, so I learn how to keep it and make space and get puck when other guy has it."